So, is a stroller allowed on an international flight? The short answer is yes – but for most airlines, you can't travel with it in the cabin.
A stroller is one of the best ways of bringing your child along with you – especially in the bustling environment of an airport. However, other questions remain, for example, are there specific types of strollers that are more frequently allowed?
Since you can't travel with the stroller in the cabin, the stroller goes with you as part of your baggage. This is the policy for most airline companies. However, different airline companies have different policies concerning allowing strollers on international flights. Below you will see an analysis of how different airline companies in the US deal with strollers.
You will also get information in this article on other relevant information regarding the use of strollers in airports. Additionally, we'll make sure to give you the tips and info you'll want for flying safely with your children.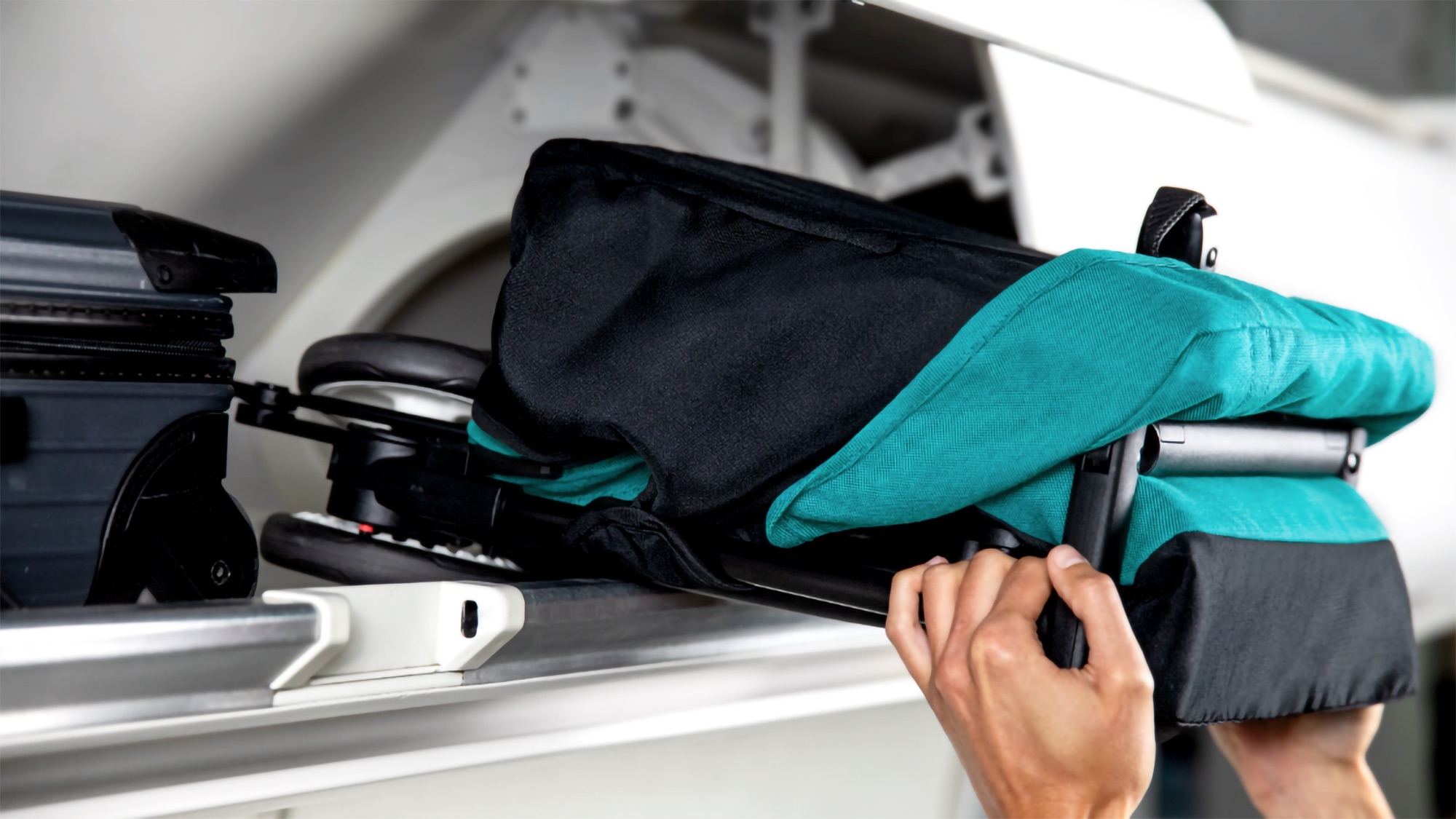 Stroller Policies for Top US International Airlines
The following is an analysis of the various stroller policies that different US international airlines employ.
1. Hawaiian Airlines
Hawaiian Airlines allow you to bring your stroller onto your flight if the stroller fits in the overhead luggage compartment, or under the seat in front of you. The stroller will not accrue an added baggage fee for the traveler.
2. American Airlines
American Airlines allows each passenger to bring one stroller with them. A.A. will usually check small, collapsible strollers that weigh less than 9kgs at the gate and larger strollers that weigh over 9kgs at the ticket counter. You can expect for them to check the stroller here at no extra charge.
3. United Airlines
United Airlines allows passengers to use strollers at the airport. However, you will have to check your collapsible stroller at the gate. Non-collapsible strollers are checked at the check-in counter by a United Airlines representative for free. You can request that the airline deliver the stroller to the aircraft door once you've arrived at your destination.
4. Southwest Airlines
Southwest Airlines allows you to check a stroller or car seat in at no extra charge. This policy applies to both collapsible and non-collapsible strollers. You can check the stroller in at the gate or ticket counter.
5. Delta Airlines
Delta Airlines also offers for you to check your stroller in for free. You can check your stroller at the curb, the gate, or the check-in counter depending on what is convenient for you.
6. Jetblue Airlines
Jetblue allows you to carry a diaper bag, stroller, and car seat – free of charge – if you're traveling with your infant child. The airline's policy applies to both collapsible and non-collapsible strollers.
7. Alaska Airlines
Alaska Airlines allows you to check your child's stroller at the gate or check-in counter for free. This rule applies to both collapsible and non-collapsible strollers, too. You can also request the airline to deliver the stroller at the airplane door once you arrive at your destination.
8. Spirit Airlines
Strollers are a lifesaver for parents traveling with young children, especially when flying with Spirit Airlines. The strollers Spirit Airlines policy allows parents to check in their strollers for free, either at the check-in counter or at the gate. Keeping strollers in mind when traveling with Spirit Airlines can make the trip much smoother and more enjoyable for both parents and children. So, always make sure to check the stroller Spirit Airlines policy before heading to the airport.
9. Frontier Airlines
Frontier Airlines allows you to check your stroller in for free when you are traveling with a child, regardless of whether the stroller is collapsible or non-collapsible.
---
So, for the longer answer to our "is a stroller allowed on an international flight" question, you can see that almost all US airlines have the same policy with regards to strollers. All of them will not charge you extra fees for your stroller. However, if your stroller is too big, some of them might treat the stroller as baggage, meaning that you'll end up paying a separate fee. Hawaiian Airlines is the only company which allows you to carry your stroller onto the plane.
All the airlines above allow you to carry your child on your lap during the flight. However, your child must not be older than two years, as you are required to purchase a plane ticket for any child who's two years or older.
You can only carry one infant on your lap during the flight. If you have two children aged below two years, you will have to purchase a ticket for at least one of them. For you to successfully do this, you will have to buy the proper child-restraint device for the flight. These devices are cheap, and you can even buy one at the airport.
How Should You Protect Your Stroller While Traveling?
Strollers are very convenient, and they can help you out tremendously at the airport. But as you have seen above, most US airlines do not allow a stroller onto an international flight. Because of this, we recommend that you travel with a light, collapsible stroller.
On such airlines, they will treat your stroller as baggage (and most of them do not require that you pay baggage fees for a stroller). However, for a safer and more comfortable experience, carry a small, collapsible stroller if possible. A collapsible stroller is easier to move and less prone to damage. Another disadvantage with large strollers is that the airline might deem it too large to travel with (that is a possibility, unfortunately).
If you're traveling with a collapsible stroller, you can also put it inside of a canvas bag if the airline doesn't allow you to board the plane with the stroller. We also recommend you tag the canvas bag and detail the contents of the bag and its destination. Even if a stroller is allowed on an international flight, you can carry the canvas bag with you to ensure that it fits in the overhead compartment once you've folded the stroller.
Furthermore, a canvas bag will reduce the possibility of damage to your stroller. You might wonder why we recommend that you tag the stroller canvas bag; doing so will allow you to identify the bag much faster once it comes out with the other baggage. It also gives airline attendants an idea of what is in the bag at a glance, which increased your chance that they'll handle the stroller with more care.
In regards to folding your collapsible stroller: before you fold it, ensure that you buckle all the straps together, that you empty the stroller basket, and that you detach the drink holders and mummy hooks (if possible). These simple, but essential, steps reduce the airline/airport damage your stroller during transit.
Is Any Stroller Allowed on an International Flight?
Most airline companies do not discriminate when it comes to the type of stroller you choose, with the two main types of strollers being light, collapsible strollers and larger, heavier strollers. Each kind of stroller has its advantages and disadvantages.
1. Light, Collapsible Stroller
It has the following advantages:
Light and easy to carry
Can be stored in an overhead compartment if the airline allows it
Affordable
Easy to maneuver
The main disadvantage of this stroller:
Less storage space when compared to a larger/heavier stroller
2. Larger/Heavier Stroller
A large stroller has the following advantages:
Ample storage space for diapers, toys, etc.
A large canopy that protects your child from the weather and elements
It has the following disadvantages:
It is not easy to carry, as it is heavy
It cannot be brought onto the plane
It might attract a baggage charge if it is too big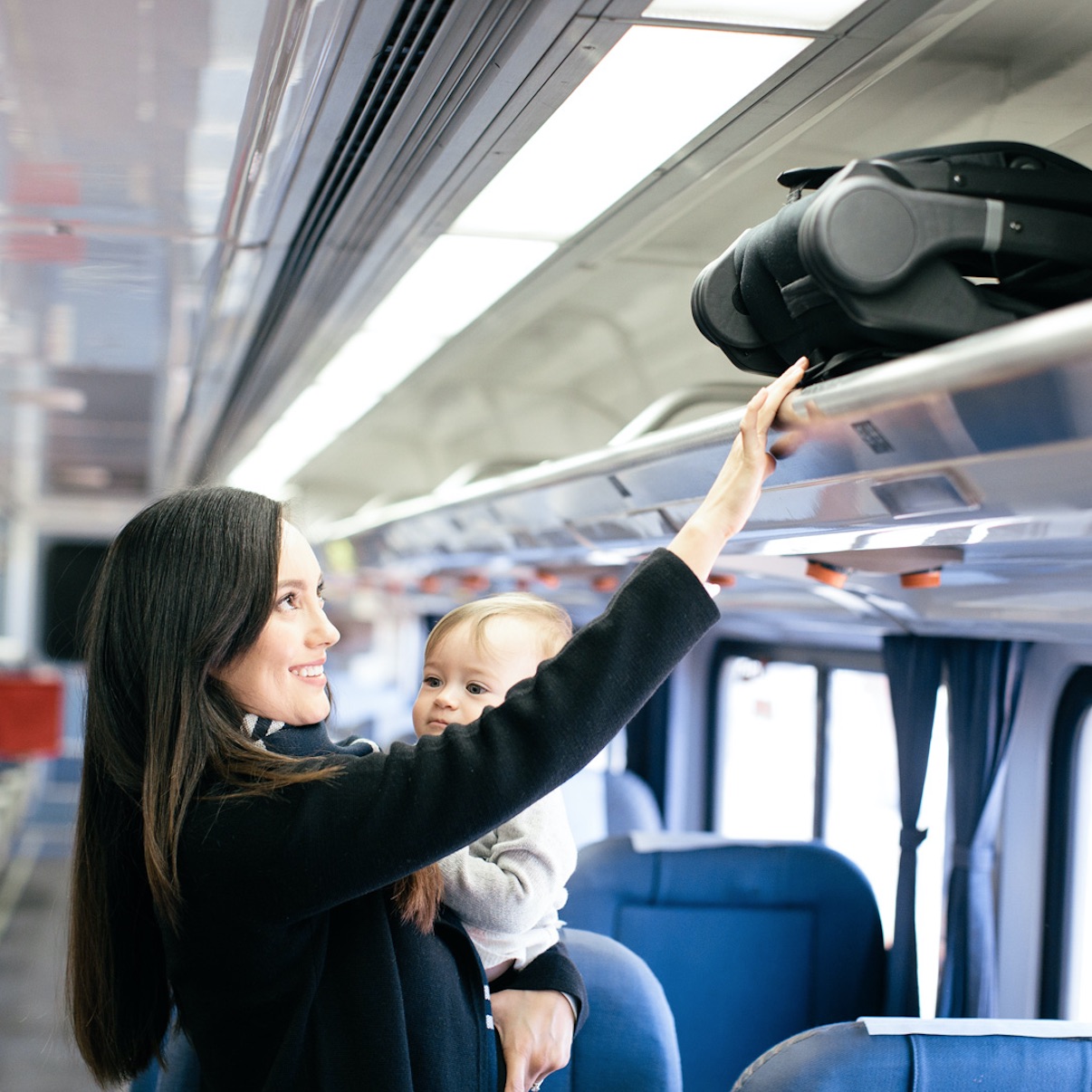 Taking a Stroller Through Airport Security
Once you get to the security checkpoint, you will have to remove your child from the stroller because security will then be passing the stroller through their scanning machines. Most airports have dedicated family queues that exclusively help families.
Also, most airlines suggest that you arrive at the airport before boarding time. This period is usually for families that have children with them. During this time, airlines assist passengers with children or strollers in boarding the plane before everyone else so that children have enough time to settle in before the flight takes off.
Related Questions
How old should a child be to travel safely on a flight?
Most airlines will accept infants that are as young as two days old. Other airlines refuse to board a child that is less than two weeks old. To be safe, talk to the airline you wish to travel with beforehand to find out their age policy for children. You should also ask your children's physician for advice before you take your infant child on a flight.
How do I ensure that my child has an enjoyable flight?
You do not want your child to be bored all through the entire flight. Your child might start crying, which can lead to a very exhausting trip (and experience!). Explore the following options to ensure that you and your child (or children) have an enjoyable flight:
Pack gifts or toys that will keep your child entertained and busy during the trip. Preferably, carry new toys that will keep them occupied for more extended periods. Use technology to your advantage, and have their favorite shows or games downloaded onto a tablet.
Ensure that you are calm by playing relaxing music or by taking a nap when your child naps; this will ensure that your mind is fresh and clear at all times. You can also carry ear muffs to shield your child's ears from the sound of jet engines. And if need be, don't be shy: ask for help from other passengers on the plane. People generally love children and understand the challenges of traveling with a child; it just might be that the help you need is seated right beside you.
One Additional Recommendation on Stroller Travel
Consider renting a stroller when you get to your destination; doing so will nullify the possibility of damaging your own during transportation or on your trip. Additionally, ask any friends or family to bring a stroller along for you as they pick you up at the airport when you return.