You travel often and rely on your luggage extensively, so when upgrading pieces, you put a little more thought into it than the average consumer. Thus, there are certain brands you gravitate towards and others you stay away from. You're always on the lookout for emerging luggage brands, so which ones should you shop for in 2023?
Want to know what makes these brands so highly renowned? For some, it's their sterling reputation. For others, it's innovation, and for more still, it's providing you a durable option on a budget. Keep reading, as we'll discuss each of these brands in more detail as well as recommend one or two bags from each.
For amazing deals regardless of the brand, see our roundup of the best luggage deals in 2023!
5 of the Best Luggage Brands in 2023
Victorinox
Next, we've got Victorinox, which has gotten some major nods for its durability. If you're looking for a brand with tough bags that can stand up to the wear and tear of everyday travel, you've found one. 
The Swiss Army heritage of Victorinox sees the brand also producing fragrances, watches, cutlery, and–of course–Swiss army knives. We'll stick to the luggage for the sake of this article, but you can certainly stock up through this company. 
Victorinox has a rich history that began in 1884. It was then that Karl Elsener invented Swiss army knives. In the decades and centuries since, the company has grown to sell other goods as well, all of which are very well-received.  
Since Victorinox specializes in both hard-side and soft-side luggage, we figured we'd look at one bag from each category.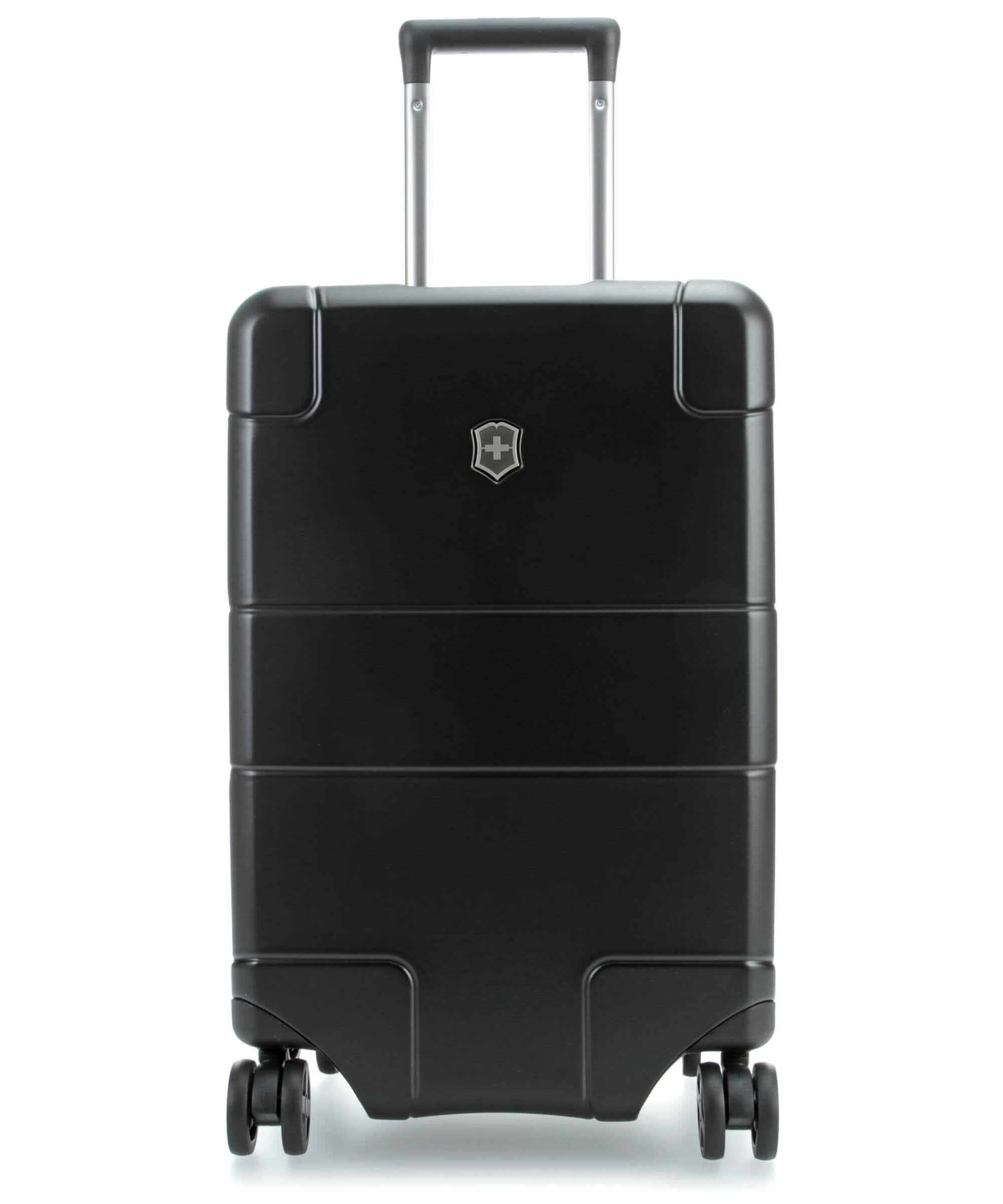 The Lexicon Hardside collection comes in a range of sizes, but we'll review the large bag. This luggage won the People Travel Awards distinction in 2019. It's no wonder, what with the bag's polycarbonate shell, eight wheels (including four double wheels), an integrated combination lock approved by Travel Sentry, and racquet coil zippers from YKK. 
You also get haul handles that allow for comfort as you pull your luggage through airports, hotel hallways, and everywhere else you've got to go. Victorinox even maximizes the packing space so you don't have to overpack you get with any of their bags in the Lexicon Hardside line. 
Inside, you'll find a zippered divider with a pocket stashing a full suiter. You can take this suiter out and clean the pocket anytime it gets a bit dirty. Dual mesh accessory pockets are great for stashing small essentials while compression straps (which cross over each other in an X shape) keep your stuff neat. 
As Victorinox says, "soft means strong." Their Werks Traveler 6.0 softside luggage in large has Hinomoto wheels outfitted with Lisof tires for more silent rolling. The RC coil zippers from YKK are self-cleaning so you have less to take care of. Further, Victorinox adds to this soft luggage the brand's Pack More system so you can leave less gear and clothing at home. In fact, you can get four centimeters more out of this luggage, which is pretty generous!
Briggs & Riley
A laptop compartment measuring 15.4 inches is padded and found in the expandable zippered compartment. You once again have those X-shaped compression straps for packing convenience as well as a tri-fold suiter and side pockets made of mesh. 
Luggage gets damaged all the time, and when it does, it's typically on you to replace it. Well, at Briggs & Riley, the company says that they'll fix your bag for free should it sustain some serious wear and tear. Now that's a cool guarantee that has helped this brand make a big splash in luggage.
The company follows the "engineered for reality" mantra, using several brand-specific patents so you can have more fun traveling and waste less time on your luggage. As part of U.S. Luggage LLC, a company founded in 1970, Briggs & Riley was officially established in 2006. Today, you can buy the brand's luggage in nearly 30 different countries.
Let's take a look at what you can get at Briggs & Riley, such as their International carry-on expandable wide-body spinner bag. It's loaded with a wealth of features you'll love, including a SpeedThru pocket for pulling out items in an instant, like when passing security checkpoints. The YKK zippers are self-repairing, and they even lock. 
Corner guards are reinforced to keep this luggage looking better longer. Then there are the pockets, such as the Outsider pocket for your phone and other must-haves and a U-zip front pocket that's quite big. 
Briggs & Riley uses a hybrid fiberglass frame for this carry-on, which promises to hold its shape while promoting durability and flexibility. With the brand's HideAway ID tag, no one can steal your valuable personal info. The top carry handle also comes cushioned so your hands aren't callused and sore. 
The bag's exterior is made of ballistic nylon, which prevents abrasions, dirt buildup, moisture retention, and wear and tear. V-groove tube handles won't jam up inconveniently, and the four swivel wheels roll all 360 degrees. The handle system, including the Outsider handle, is made of aluminum that's aircraft-grade. You can even set the handle at three heights. 
When packing up your stuff, you're covered, too. Mesh lid zip pockets let you stash ties and socks without losing them. A garment folder can keep up to two suits in pristine, wrinkle-free condition. Several mesh garment panels with cinch-down technology also eliminate wrinkles while a CX compression expansion system gives you more room to pack extra. 
Delsey
If you want to talk about innovation in luggage for 2023, it's got to be Delsey. This Parisian brand was founded in 1946 by the Delahaye Institution, which was known for its phonograph and typewriter protective boxes and its leather camera cases. When Delahaye partnered with Seynhaeve, Delsey was born.
Today, as the company itself says, Delsey is known for its "innovative, modern, practical range of luggage for first-time travelers looking for adventure." Of course, whether you travel once a year or once a week, there's a piece of luggage with your name on it from Delsey. 
As for its innovation, it was in the 1970s that Delsey began seriously progressing the luggage industry. That was the first year the company introduced its own line of hard-shelled luggage, which had wheels by 1972.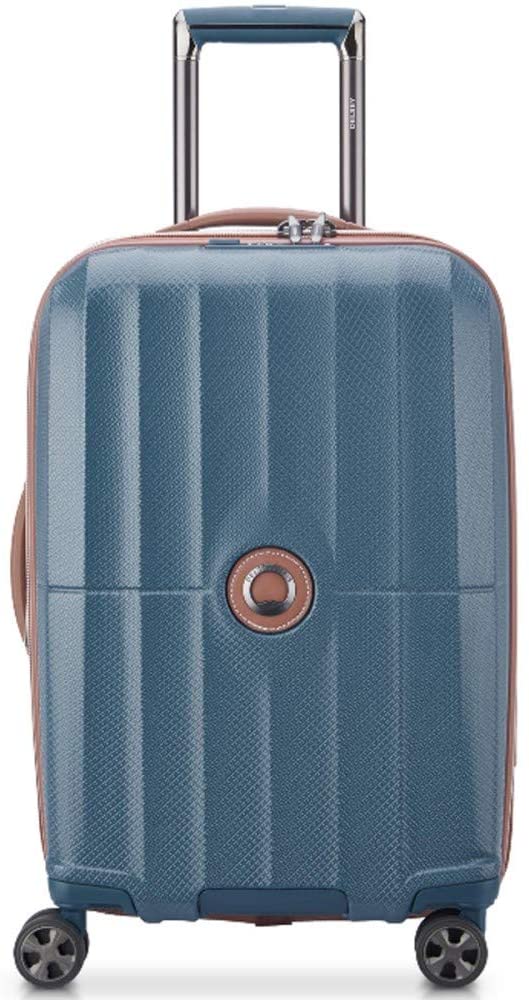 We'll look at two models of Delsey bags, beginning with the St. Tropez 21-inch carry-on spinner bag. With TSA-approved locks, you can feel comfortable that no one's getting into your luggage if you don't want them to. The spinner wheels are dual-density, with both a soft and hard layer. The soft layer provides more silence, as it can absorb shocks, and the hard layer promotes greater durability. 
An interior lining can come out and be cleaned in your washer, but make sure you do so on delicate. Speaking of the interior, you also get shoe pockets, a zippered divider with pockets, and tie-down straps for packing more efficiently than ever. The Securitech zippers promise three times the resistance, and the accents, made of vegan leather, are incredibly stylish. The rest of this bag is polycarbonate.
The Aero expandable rolling luggage comes in a variety of sizes for your convenience. This luggage too has a TSA lock and double spinner wheels for turning and moving 360 degrees quite gracefully. With side carry handles, you can lift and maneuver your luggage, even if it's completely packed. The main compartment has a zippered pocket as well as tie-down straps, and with dual packing compartments, each with their own lined dividers, you get plenty of space to pack.
Travelpro
If you travel more for business than pleasure, one luggage brand that should certainly be on your radar is Travelpro. Bob Plath, the company founder, used to be a pilot for Northwest Airlines. He wasn't pleased with the quality of luggage at the time, so he decided to create his own. The rest, as they say, is history.
From laptop bags to backpacks, garment bags, checked bags, and carry-ons, you can find them all at Travelpro. Each piece of luggage has the high level of craftsmanship and quality that have become the trademarks of the Travelpro brand. To further showcase that excellence, the brand's Quality Control Lab personally tests every last bag before it's sold to you, the consumer. 
Just take a look at the brand's Platinum Elite expandable spinner bag. Those namesake spinner wheels, of which you get eight, are the self-aligning MagnaTrac variety. The wheels are also part of the brand's PrecisionGlide system and can easily move 360 degrees so you're never limited in where you want to go with your luggage. 
A PowerScope extension handle is adjustable and features Travelpro's Contour Grip, which has touch points covered in rubber so it doesn't hurt your hands to use.
The main lock, which earns TSA approval, can secure when you want it closed. The other zippers are accented in pretty chrome, while the luggage itself is covered in high-end fabrics. A tapered expansion, which is resistant to tipping, adds an extra two inches to the bag's total capacity. 
You even get some fun colors to choose from, such as coastal blue, true navy, Bordeaux, vintage grey, rich espresso, intrigue black, and shadow black. Travelpro backs its luggage with its Limited Lifetime Worry Free Warranty as well as its 100-day trial. That gives you 100 days to use the luggage as you see fit. If you don't like it for any reason, you can get a full refund even if the bag is somewhat used. 
Tumi
We couldn't wrap up this list without talking about Tumi. For some travelers, when they globetrot, they want luggage that's as stylish as it is functional. Tumi delivers in both departments and then some. 
Since 1975, Tumi's luggage has lived up to the brand's principles: "world-class customer service," "functional superiority," "technical innovation," "design excellence," and "superior quality." Naming itself after a Peace Corps member from South America, Tumi was on the map five years after its founding. It was in 1980 that the company introduced its nylon travel bags, which were made of black-on-black ballistic materials.
Today, you can shop bags, backpacks, luggage, and accessories from the brand. Let's take a look at some of the Tumi's top luggage options.
The International carry-on from the Tumi Latitude collection has an eye-catching hard-shelled ballistic exterior. Carrying you along are four spinning wheels, all made to be lightweight so they don't slow you down. The telescoping handle has three stages, while a low-profile lock meets TSA approval. Otherwise, to reach the main compartment, you need to use the zipper.
The carry-on's interior is completely lined and has a mesh zip pocket, two other zippered pockets, a hanger bracket, dual packing compartments, and tie-down straps made of mesh. You can select from colors like black, navy blue, silver, blush pink, and purple for this carry-on.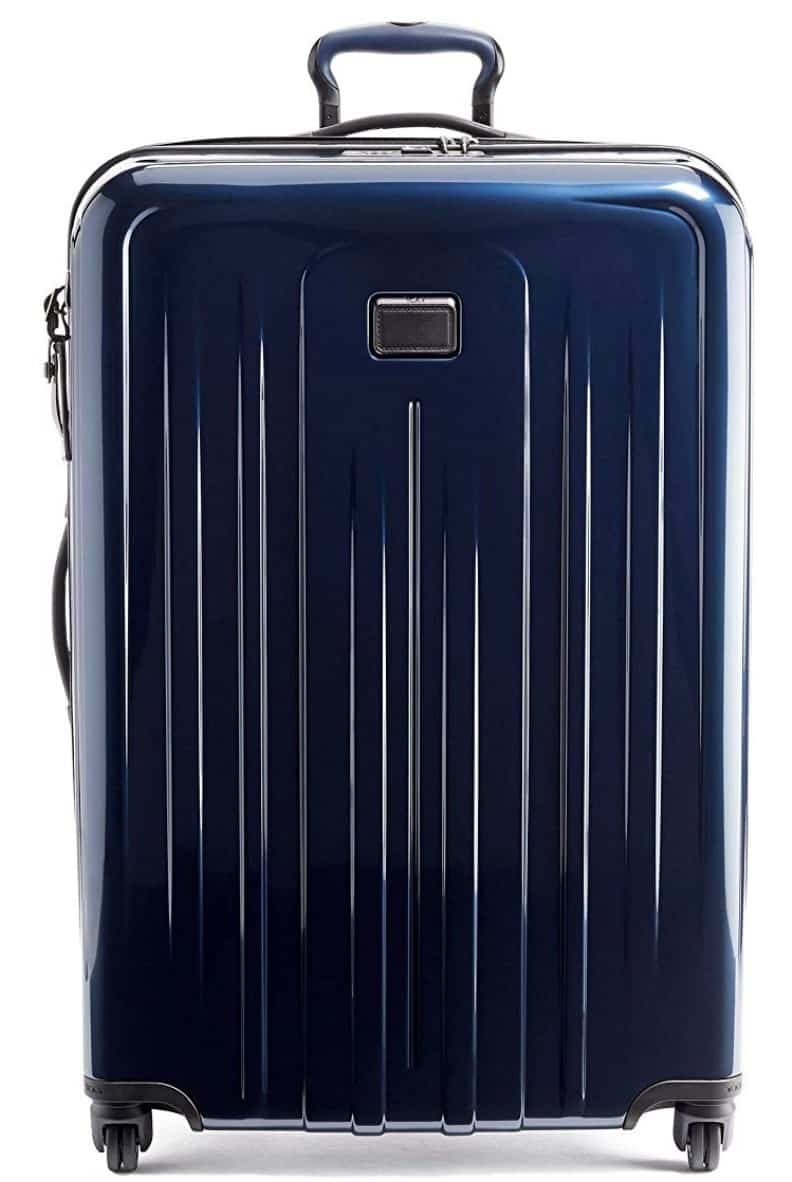 For an example of Tumi's bright and vivid designs, check out the Extended Trip expandable four-wheeled packing case in the Tumi V4 line. This hard luggage with four spinner wheels (all recessed) also features a zippered expansion, a telescoping handle, a bottom grab handle, side carry handles, a retractable top, a TSA-approved lock, and a zippered main compartment.
The interior boasts compression straps, a hanger bracket, and zipper pockets with two compartments. An ABS and polycarbonate shell is super stylish with finishes like black, blackberry (deep purple), sea green, stone grey, bright red, bright lime, eclipse (dark blue), mink (beige brown), and blush floral with a pattern in dark pink, white, and blue. You can even get your name monogrammed on your luggage so no one mistakes who it belongs to. 
Best Brands of 2023 – Conclusion 
What makes luggage the best in 2023? Is it price? Looks? Innovation? Durability? Luckily, no matter which of these qualities you value most, we're confident the six bags we outlined in this article are suitable for your travels. Each of these brands, from Tumi to Travelpro, Delsey, Briggs & Riley, Vicotorinox, and Away have made major strides in the world of luggage. They're the bags to carry around this year.