If you have international or backpacking adventures coming up in your itinerary, you may have recently started the quest for a perfect travel bag. So you start your search and an Osprey Farpoint 55 review come up (or several).
]So, let's get down to it: why should you choose this bag?
The Osprey Farpoint 55 is a hefty backpack you can bring with you for heavy-duty travel, extensive trips, and small weekend getaways alike. It can hold 50 pounds max and you can even use the daypack as carry-on luggage.
In this Osprey Farpoint 55 review, we will fill you in on everything you'd ever want to know about this backpack. From features to pricing, pros and cons, and where you can get it, by the time you're done reading, you'll know if this bag is right for you.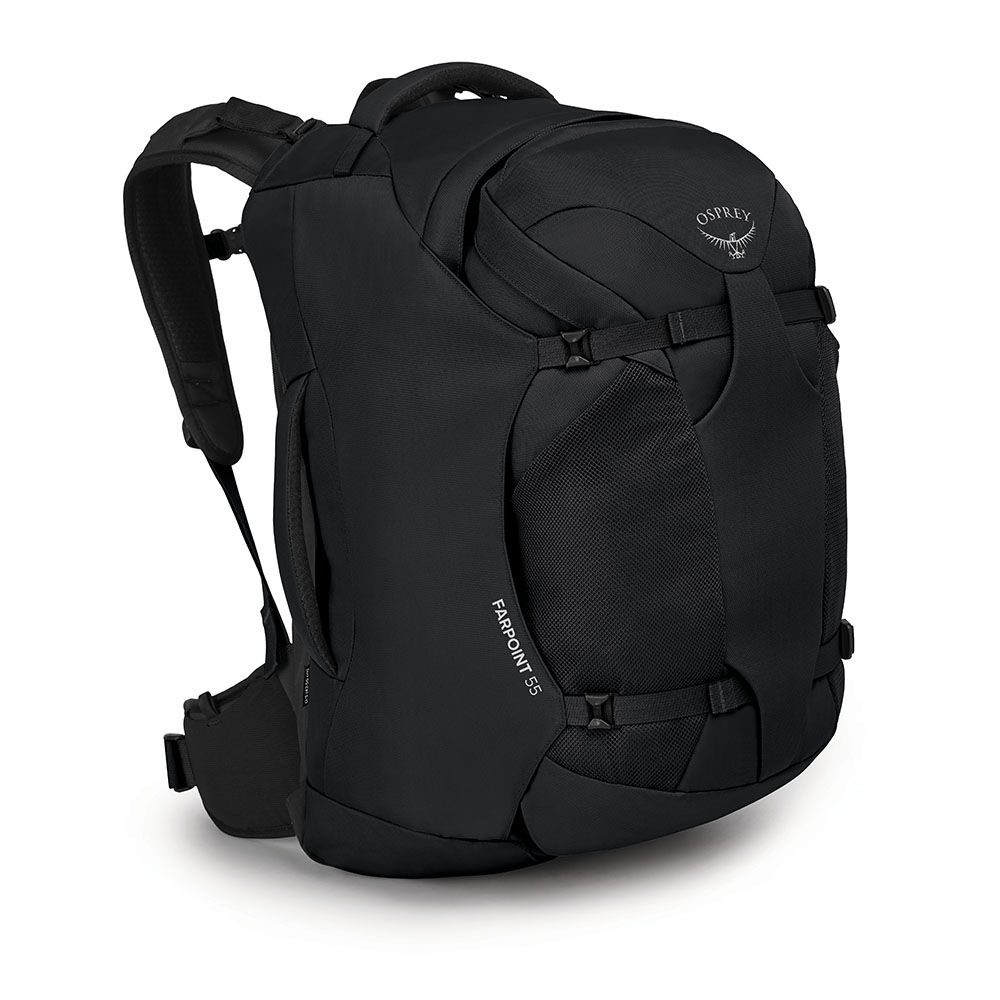 Osprey Farpoint 55 – The Basics
The Farpoint 55 is a bag manufactured by travel and lifestyle brand Osprey. It's one in a long line of backpacks and other bags from the brand. Osprey has been around since 1974, when Mike Pfotenhauer created the company at the age of 16 in Santa Cruz, California. He became known for his backpacks, which boasted made-to-order details and a customized fit. The company continued growing, eventually expanding to Southwest Colorado.
On to the bag! The Osprey Farpoint 55, as we mentioned in the intro, is a trekking bag with a removable smaller daypack. It's technically a men's bag, but women can use it as well. It comes in two colors, Volcanic Gray and Jasper Red. The Volcanic Gray color looks almost black while the Jasper Red is a bright, firetruck red. You can get the bag in two sizes: small/medium and medium/large. Figure out which one of you need by properly measuring your torso length.
Osprey Farpoint 55 Features
Now that we've introduced the Osprey brand to you and the Farpoint 55 backpack itself, let's dive deep into the many features you'll find with this dependable bag.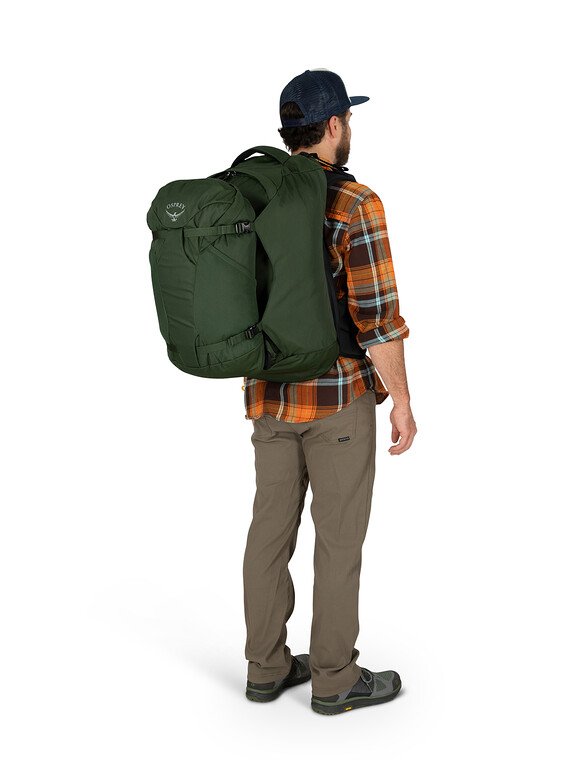 Fabric (this is actually important!)
The fabric of a backpack matters a lot, as it lends it durability. In the case of the Farpoint 55, it's made of a few different material types. The bottom of the bag is a packcloth with a denier count of 600D. The bag's accents have a denier count that's the same. The main portion of the bag is made from nylon mini hex diamond ripstop with a 210-denier count.
What's a denier count? That's a good question. When an item like a backpack lists the denier count, they're representing how many filaments or threads went into the making of that product. A high denier count is a product with great durability, stability, and thickness. A lower denier count isn't all bad, either, as the material tends to feel silky and soft. It may also be sheer or semi-sheer.
Load Capacity – A.K.A. How Much Can it Hold?
Osprey says the Farpoint 55 can hold 50 pounds of gear max. That's for the medium/large bag only. The overall weight range is 20 to 50 pounds. Should you buy the small/medium version of the Farpoint 55 then, know that it can carry 20 pounds at most. Since you're losing about 30 pounds between the two sizes, this is definitely something you're going to want to know and heavily think about before making your purchase.
Weight (spoiler: both sizes weigh nearly the same, i.e., they're light)
As we mentioned a few times now, you can choose from one of two sizes for your Farpoint 55 backpack. The small/medium-sized bag has a volume of 3,173 cubic inches or 52 liters. It weighs 3.75 pounds and measures 12 inches deep, 13 inches wide, and 24 inches tall.
The medium/large bag has a volume of 3,356 cubic inches or 55 liters. It's 3.9 pounds, so it's only marginally heavier. This bigger version of the Farpoint 55 measures 12 inches deep (so the same as the smaller bag), 13 inches wide (also the same), and 25 inches tall. There's hardly a difference in terms of sizing between the small/medium and medium/large backpack.
Frame Suspension: Rock Solid
The Farpoint 55 boasts Osprey's LightWire frame suspension. This feature allows you to distribute weight better for less pain during long treks. The weight load transfers to your hipbelt from your harness.
Plus, check out our guide on avoiding back pain while backpacking!
This peripheral frame is only 3.5 millimeters. It features an Atilon framesheet that moves your weight towards that peripheral frame from the rest of your backpack.
The stowaway reverse space mesh hipbelt, harness, and back panel include handy features as well. These are a rescue whistle, a sternum strap you can adjust as needed, and an atilon foam base with mesh.
You can detach the suspension system from the Farpoint 55 bag if you're so inclined. It has a stowaway panel with a zipper. Not only does this make for easy transport, but it also reshapes the bag's silhouette, which looks better and more streamlined than ever. Further, you're also safer from anyone who mishandles your bag or tries to steal parts of it.
Daypack, the Star of the Show
Speaking of parts of this bag you can take off, the Osprey Farpoint 55 also includes a removable daypack. Should you want to bring just a few things with you on a daytrip, such as your phone, sunglasses, your wallet, a charger, or sunscreen, you can just throw it in this daypack.
Of course, you won't want to carry the daypack in your hands all day, right? That can really get in the way of the fun, especially if you're hiking. Luckily, you don't have to with the Farpoint 55. The front carry lets you attach your daypack to the bag's main pack harness. Now you can go about your day hands-free knowing the daypack is close by.
Pockets and Zippers (another spoiler: there are many)
As any good backpack should, the Farpoint 55 comes with a slew of zippers and pockets. Inside the bag towards the front, you'll find the main mesh pocket with a zipper. Since it's mesh, you can clearly see what you put in the pocket for easy access. There are also two more mesh pockets at the front.
You'll appreciate the sleeve for tablets or laptops as well. This is stowed away in a compartment you can only access by a lock. This way, should the worst happen and thieves get a hold of your bag, they won't be able to get into the compartment and steal your most expensive valuables.
The hipbelt, harness, and back panel system we described in the last section come with zippers, too. Particularly, the hipbelt does with its rear flap zippers. This adds even more protection to this already efficient system.
The included slash pocket will also seriously impress. This zippered pocket has scratch-free, heat-embossed technology. It can take a lickin' and keep on tickin' no problem. You'll want to keep your most precious items that you can fit in there, as it's one of the most safeguarded pockets in this bag.
The main compartment zipper has lockable sliders, further enhancing the safety features of the Farpoint 55. To get to that main compartment in a hurry, just use the panel zip across the front of the bag. It's certainly big enough. Given that you carry most of your must-have items in the main compartment anyway, you won't have to struggle to get to them when you need them most.
Straps and Handles: Sturdy and Varied
Osprey assumes you'll carry your bag with you for hours at a time. That's why they equipped the Farpoint 55 with a slew of handles and straps for convenience and easy, painless transport. For instance, you get dual compression straps inside the bag that will keep your stuff in place. No longer do you have to worry about your items shifting around in your bag after you meticulously pack them where you want them. That's priceless peace of mind, especially if you travel with expensive items like tablets or laptops.
The side and top handles of the Farpoint 55 include padding for your comfort. Your days of sore shoulders at the end of a trip are finally over. The front compression straps, of which you get two, can also help for keeping your essentials close at hand. These items won't shift or budge as you walk about with your backpack. You'll also quite like the sleeping pad straps, since these can come off if needed. 
Ventilation – Breathability Matters!
It's crucial that a bag or backpack has a source of ventilation, preferably throughout the bag. Not only does this control odors better, but it also allows your skin to breathe. When you're carrying a heavy bag that's up to 50 pounds, giving your back and arms some breathing room is a pretty big deal.   
The LightWire frame suspension included with the Farpoint 55 features mesh along both the hipbelt and the harness. This prevents you from chafing and getting a nasty, uncomfortable rash that can ruin your adventures fast.
Osprey Farpoint 55 Review – Pros and Cons?
For those of your that like plus and minus columns or pros and cons list – let's get right down to it.
After all, you're probably on the verge of making your choice at this point, so seeing the best and worst features of the Osprey Farpoint 55 can help you decide if you want it.
Farpoint 55 Pros
We'll begin with all that's good about the Farpoint 55, of which there's a lot.
Having two sizes to pick from is convenient. Not everyone who needs a backpack wants the big one, but for those who do, you have the option.
You get plenty of padding and ventilation to not only make carrying the Farpoint 55 less painful… but less stinky, too. The bag won't trap odors and won't rub up against your skin, leading to painful chafing.
The slew of pockets is both convenient and well-designed. That Osprey thought to make a pocket specifically for thin devices like tablets or laptops especially stands out.
The mesh on most of these pockets makes it easy for you to see where you kept what.
The zippers and locks on the pockets make for quite a useful security feature. Sure, the Farpoint 55 is far from theftproof, but you're making it harder for nefarious characters to get into your valuables. That's saying something.
The compression straps, featured in both the exterior and interior of the backpack, hold your items in place so they don't get jostled or broken. That's a handy feature to have on a bag.
The LightWire frame suspension system means you have the freedom to carry this bag for long periods without suffering from aching shoulders, back, neck, or arms.
The Farpoint 55 comes in two appealing colors.
Farpoint 55 Cons
But let's be fair and discuss the cons of the Farpoint 55 as well.
That the smaller version of this bag can only hold 20 pounds doesn't sound like much until you learn that the bigger Farpoint 55 can hold 50 pounds. Then you realize you're losing 30 pounds, which is quite significant!
As we said in the pros section, this bag isn't theft-proof by far. Other backpacks and luggage manufacturers may do more to keep your bag from getting lifted than Osprey did for the Farpoint 55.
This is a soft-shelled bag. Since Osprey didn't mention anything about the Farpoint 55 being waterproof, we're assuming it's not. Should you go out in the rain or down to the beach and your bag gets wet, it will probably soak through to all your stuff.
Some people might think spending about $200 on a backpack is a bit much.
How to Get the Best Osprey Farpoint 55 Deal?
Prices fluctuate all the time, and there are new deals and sales every month.
Bottom line?
If you want the best price possible on a Farpoint 55, it's best you check here (possibly more than just once?)
Now – if the price seems a little steep for you, we also recommend the Osprey Porter 46, which tends to be a bit cheaper. It only comes in one size that holds 46 liters.
What Are Others Saying about the Farpoint 55?
You've probably already read a few customer reviews.
But if you haven't, we've taken some of the best and most-critical reviews of the Farpoint 55 and to share them with you now. These come directly from Osprey's website.
The top positive review mentions how the bag's daypack is the perfect size to get on flights as a carry-on item. This reviewer also prefers the wide-open main storage compartment since they used packing cubes to keep all their belongings organized. They make note of the plush hipbelt and shoulder padding as well.
The top negative review brings up two valid points. First, they say that the daypack lacks pockets. They also mention how the Farpoint 55 doesn't have many pouches for tech. Sure, there's the laptop/tablet sleeve, but that's about it. This user mentions that their phone, wallet, charging cords, hard drives, and pens often end up wildly disorganized in the bag. The reviewer suggests getting rid of the zipper pouch and replacing it with small compartments instead. This person doesn't hate the Farpoint 55 by far; they just want to make it better.
The Verdict
The Farpoint 55 is a sizable bag from backpack company Osprey. It's about 25 inches tall, 12 inches deep, and 13 inches wide. This backpack can hold up to 50 pounds and weighs about four pounds itself.
You get a slew of straps, handles, pockets, and zippers with the Farpoint 55 that are meant to increase convenience and security in some instances. The LightWire frame suspension system is a mainstay, and we also like the resiliency of this bag with its high denier count.
The removable daypack is another noteworthy feature, as you can take it off the bag and carry it separately or connect it to the front of the Farpoint as needed.  The pack will keep all your daytrip essentials close by.
The Farpoint 55 isn't the cheapest backpack out there, that's for sure. You can poke around on Amazon and find a dozen similar bags for far less money. However, you do get what you pay for, so remember that. This Osprey bag is of high quality, through and through. It's also versatile. You can use it for that two-week vacation you have coming up as well as for your next weekend hike or three-day getaway. For those purposes and more, Farpoint 55 makes for the perfect backpack choice.