If you're looking for a lightweight backpack that can handle long-distance hiking, you might be wondering which one to choose, and which one comes out on top in a Gregory Octal vs. Optic comparison.
These two backpacks are designed for ultralight enthusiasts who value comfort, durability and features. But how do they compare in terms of weight, capacity, fit and functionality? And which one is better suited for your needs and preferences?
In this article, we'll break down the pros and cons of each backpack and help you decide which one is right for you. We'll also share some tips on how to pack them efficiently and make the most of their design. Whether you're planning a weekend getaway or a thru-hike adventure, you'll find useful information here.
Let's start by looking at the main differences between Gregory Octal and Optic backpacks.
Gregory Octal Backpack Features
The Gregory Octal backpack is a stylish, lightweight and comfortable bag ideal for outdoor activities and everyday use.
It's made up of four internal sections that allow for easy organization of belongings. Its top-lid closure gives easy access and is perfect for storing items you need to grab quickly, as well as its stretchy front pocket for quick access to small items.
The Octal has adjustable ergonomic shoulder and hip straps for maximum comfort. The material is made of water-repelling nylon to keep your belongings safe from rain, though it isn't waterproof. In addition, there are built-in safety features and reflective patches for increased visibility at night.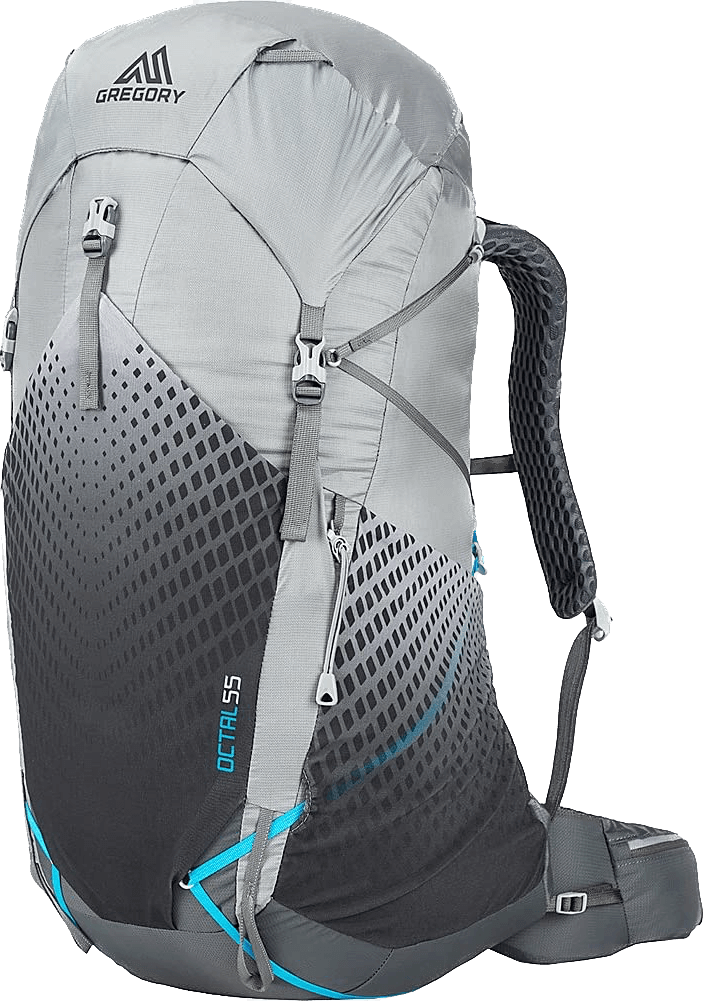 Here are a few of the main features: 
1. Material
The Gregory Octal backpack is made of 100 % nylon fabric. That is one of its major advantages as it is very durable and easy to clean compared to other materials such as cotton, leather, and many more. You can wash the backpack whenever you want. There are many cases in which bags made of natural leather have been damaged because they were not cleaned or cared for properly.
2. Design
The design of the backpack is quite simple yet lovely. It is a good-looking bag for both men and women. It is available in different colors like blue, black, gray, red, etc. you can also choose your preferred color by selecting from a wide range of color options available on the website. This feature makes it a good alternative for both men and women.
3. Comfortability
The Gregory Octal backpack comes with two shoulder straps that you can use to hold the backpack. It also has two handles which make carrying the bag even more effortless. It is also compatible with all kinds of different laptop sizes and shapes. That is another advantage as it makes it easy to carry your laptop when you're on the go. Also, it contains suspended mesh for airflow circulation. 
4. Weight
The backpack weighs 2.39 lbs. It is made of 1060D woven nylon. That makes it a good choice for both men and women who need a bag that is both light in weight and easy to carry. It is one of the most affordable backpacks available on the market. 
5. Durability
The backpack is very durable due to its high-quality material. Many bags will serve you concisely because of poor maintenance and handling. Unlike the other bags, the Gregory Octal backpack will last for years as long as it is cared for properly. High-quality nylon material is durable and can withstand normal wear and tear. 
6. Carrying capacity
That is another feature that makes the Gregory Octal backpack perfect for both men and women. If you are looking for a lightweight bag with a good carrying capacity, this backpack would be the best choice. The backpack is available in different sizes; small, medium, large, and extra-large, with a maximum carrying capacity of 58L. Each size has a different weight capacity. Thus, you need to choose the right size that suits your needs.
7. Zippered compartments
Gregory Octal backpack comes with two main compartments that you can use to organize your stuff. One of them is a padded laptop pocket, and the other is a small compartment for your items. It is also designed with a removable padded laptop sleeve to protect your laptop while you carry it around. Another zippered pocket is accessible outside the bag for small items like cables and phones. You can also use the pouch to store your valuables when traveling. It is an excellent alternative to a backpack with no zippered compartments. It will help you to organize your stuff better.
8. Price
That is one of the other advantages of the Gregory Octal backpack compared to Optic backpacks. According to reviews, Gregory bags are cheaper according to their quality. 
9. Warranty
Another significant advantage of the Gregory Octal backpack is that it comes with a 5-year warranty. That makes it an ideal choice for both men and women looking for a durable bag that will last for years.
10. Other features
The backpack contains several features that make it unique and attractive. One of them is the detachable side mesh pockets that can fit laptop sleeves or other stuff. Also, the backpack has multiple compartments that are well-designed. It has one padded laptop pocket that is large enough to carry a 17-inch laptop and some personal items.
Gregory Optic backpack features
The Gregory Optic backpack is designed for those who need ultimate performance and comfort. Its padded foam suspension system keeps the pack close to your back, providing the ultimate balance of weight and stability. The ventilated back panel and shoulder straps keep you cool and comfortable during long hikes, and the internal sleeve for your laptop makes it easy to stay productive on the go. With its multiple compartments, you can easily store and organize all of your gear, from cameras to hiking boots. Whatever your outdoor adventure, the Gregory Optic backpack has the features you need for complete comfort and convenience.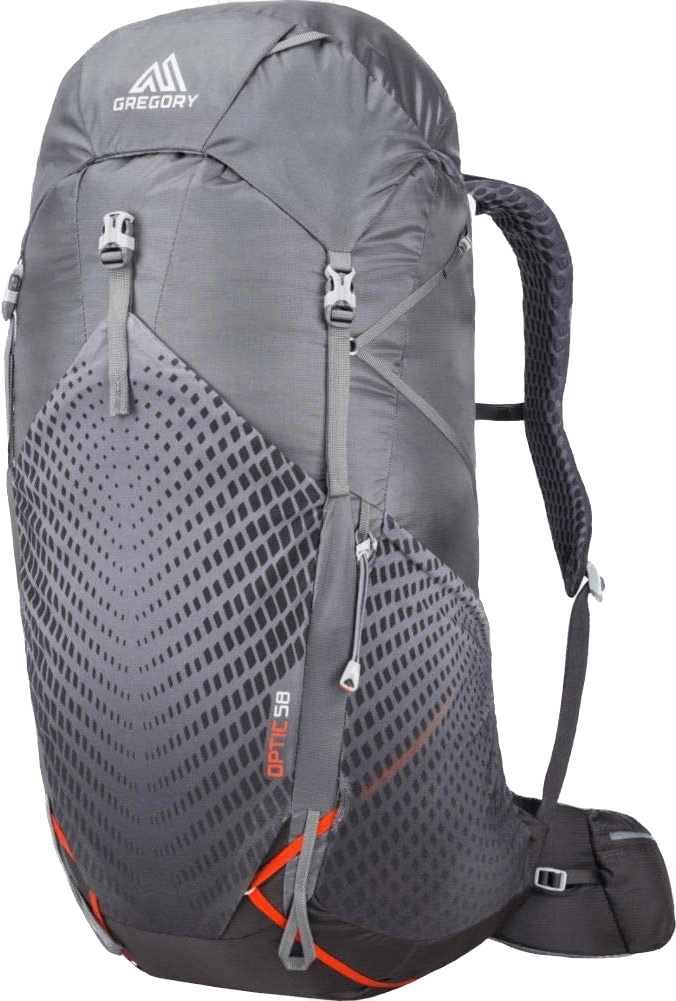 Let's look at some of the features in a bit more detail: 
1. Improved durability
This backpack is made up of solid and durable nylon material that can withstand a lot of wear and tear. It is also very lightweight, making it easy for men and women to carry around. It does not wrinkle when folded and will retain its shape even after a few months of use.
2. Weight
The medium-sized optic backpack weighs 1.14 kg, and it is available in different colors. Comparing the weight of this backpack with Gregory's similar size backpack, it is clear that the optic is heavier than Gregory's, which makes Gregory's bag more portable.
3. Carrying capacity
That is another essential factor to compare in this backpack. A large carrying capacity makes it suitable for carrying personal items when hiking, sports activities, etc. It has several pockets that you can use to hold your personal belongings, including a padded laptop sleeve, a separate bag for your phone, and a large main pocket. There is also a small pocket on the front side that you can use to hold some smaller items. That is especially beneficial for girls because they do not have to sacrifice the space inside the backpack for their stuff. 
5. Torso Fit
The Gregory Octal's substantial torso fit is another advantage over the optic backpack because it can fit most of your body, including your torso. It has several compartments and pockets that will hold most of your stuff, making it easy for you to organize your things. It is also very versatile, making it ideal for both men and women looking for a versatile backpack. 
6. Overall rating
There is no doubt that this is one of the best backpack options for men and women. The medium-sized Gregory Octal offers several advantages compared to other similar-sized bags, including lightweight, carrying capacity, and torso fit. Thus, this is the perfect backpack for anyone looking for a stylish, comfortable, and versatile backpack.
7. Padded back with ventilation
This backpack is padded on the backside, which means it is easier to carry your personal belongings with this backpack than a backpack that is not padded. This feature makes the bag convenient for you because you do not have to worry about scratches on your backpack from carrying around your things. 
8. Padded shoulder stripes
A padded shoulder stripe is essential for everyone looking for a comfortable backpack to carry their personal belongings. Padded shoulder stripes are beneficial because they provide additional comfort and stability when carrying heavy loads. Women looking for a stylish bag with padded shoulder stripes will find a perfect match for them in this backpack.
Gregory Octal Vs. Optic backpack, which one should I choose?
In addition to the opinion about the best backpack discussed above, let's now compare a few of the characteristics of these two backpack options in more detail to help you solidify why you might prefer the Gregory Octal backpack.
Build quality
You first need to know that the Gregory Octal bag is designed with innovative technology to protect your belongings and is made from high-quality nylon material, a stronger type of material that outlasts the typical canvas and nylon of other backpacks. 
Torso fit
Gregory Octal backpack has a torso fit of 18 "-20", while most of the Optic bags have a torso fit of between 14 "-16".
Weight capacity
Comparing the carrying capacity for this backpack with Gregory Octal, it is clear that Gregory Octal offers more capacity. The medium-sized Gregory Octal provides a maximum weight capacity of 16kg, while the similar size optic backpack offers a maximum carry capacity of 14KGs. Thus optic bag offers more value for your money
Lightweight
In addition to offering a higher capacity than the optic bag, the medium-sized Gregory Octal is lighter than the Optic backpack. It weighs only 1 kg compared to almost 2kg in the optic backpack. That makes the backpack easier to carry for people with bad shoulder or back problems.
Value for money
Another advantage of the Gregory backpack over the optic bag is that it costs around 100 dollars less than the optic backpack. That means you get more value for your money when you buy the backpack from Gregory.
Final verdict
In conclusion, the Gregory Optic and Octal backpacks are both excellent choices for outdoor enthusiasts, hikers, and backpackers. However, each backpack has unique features that make it more suitable for different types of users.
The Gregory Optic backpack is perfect for those who are looking for a lightweight and versatile backpack for long-distance hikes. Its comfortable suspension system and breathable back panel make it ideal for hot and humid weather conditions. Additionally, its large capacity and multiple pockets make it easy to pack and organize gear for longer trips.
On the other hand, the Octal backpack is an excellent choice for backpackers who value comfort and durability. Its unique suspension system distributes weight evenly, reducing pressure points and ensuring a comfortable fit for extended periods. Moreover, its reinforced fabric and abrasion-resistant bottom make it durable and long-lasting.