As a traveler, you're facing the age-old, hard vs. soft luggage debate. Each has its advantages, sure, but which one is better? How do you even begin to choose?
The truth is, the matter of hard vs. soft luggage comes down to personal preference. While one type of luggage may have some clear advantages over the other, both hard-side and soft-side bags make for an adequate means of carrying your belongings when traveling.
If you're on the fence between hard and soft luggage, you'll want to keep reading. In this guide, we'll outline the pros and cons of both types of bags. We'll also provide useful info that will help you make a decision that works for your travel needs.
What Classifies as Hard Luggage?
Hard luggage is clearly differentiated from soft luggage by looks alone. These bags have a tough exterior shell that gives them a defined structure. They're not unwieldy, though. With their polycarbonate shells, they have the capability for some flexibility. If you handle one of these bags quite roughly, the polycarbonate shell can handle the impact without incurring damage.  
In fact, contact lenses are also made of polycarbonate, which goes to show the versatility and durability of this material.
A second material that is sometimes used for hard luggage is acrylonitrile butadiene styrene, more commonly known as ABS. (You might have seen the acronym used before for bags.) This is a type of thermoplastic that doesn't budge if physically impacted. It can even handle corrosive chemicals with ease…not like you ever want to come into contact with chemicals when on your travels.
Some hard luggage will be made solely of ABS and others a combination of the plastic and polycarbonate.
When you're pulling your bag along a packed train station or airport, the last thing you want to worry about is tipping it over or getting it stuck on steps. With a two-wheeled piece of luggage, that concern is always a valid one. Luckily, that's not the standard for hard-side luggage, as it typically comes with four wheels instead of two. Soft luggage, on the other hand, tends to only have two wheels.
How Much Does Hard Luggage Cost?
Prices for these items tend to go up and down by the month, so we've included Amazon links to all of them so you can check them out for yourself and hopefully get one step closer to solving your hard vs. soft luggage decision.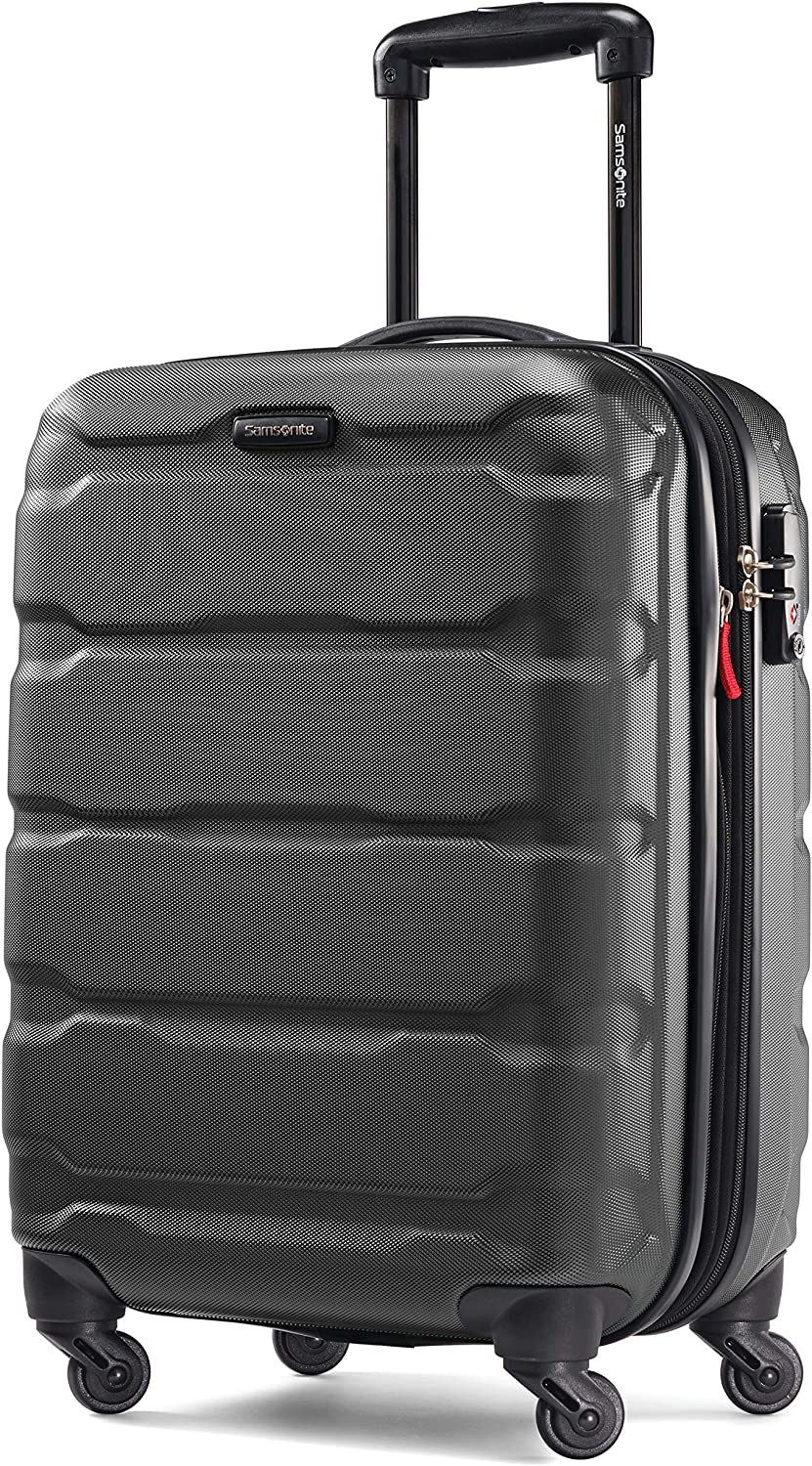 This hardside Samsonite bag includes a side-mounted lock for extra security on your travels. Open up the bag and the inside boasts cross-straps and interior dividers with zippers for keeping all your stuff in the right places.
There are four spinner wheels at the bottom of the bag that have full mobility. The exterior of this luggage is finished with a micro-diamond texture that won't scratch. You can choose from colors like teal, silver, radiant pink, purple, navy, Caribbean blue, burnt orange, bronze, and black. That's a lot of variety!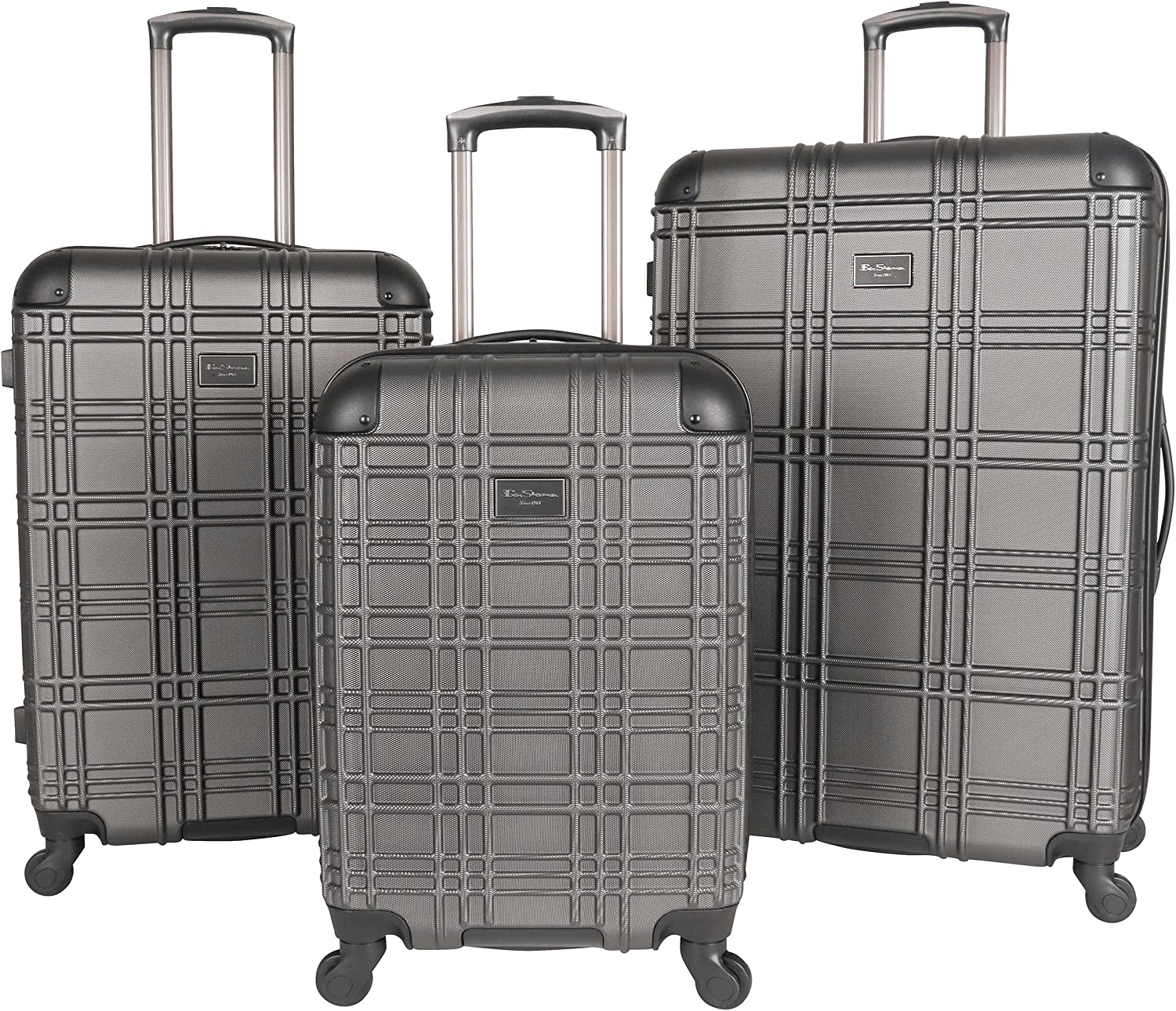 Are you in search of a sturdy yet lightweight hardside suitcase for those long trips coming up? The Ben Sherman Nottingham Lightweight Hardside 3-Piece Set is perfect for those who want to travel in style without compromising on durability.
This set includes three different sizes so you can get all of your must-bring items to fit comfortably. Each suitcase is made of durable polycarbonate and features 8 spinner wheels for superior maneuverability. Furthermore, the aluminum handle is adjustable so you can find the height that works best for you.
The set also provides a TSA lock and zipper closure for added security, even if you're on a long flight. When it's time for packing, you can rely on the two-sided interior with zippered compartments and straps to hold your items in place. If you're looking for a suitcase that's highly efficient and still keeps up with your fashion sense, the Ben Sherman Nottingham Lightweight Hardside 3-Piece Set is the one.
The Amazon Basics 3-Piece Set Hardside Spinner Luggage is a great option for travelers looking for a reliable, high-quality luggage set. This set includes three cases, 20", 24", and 28", perfect for packing items for a business trip, ski trip, vacation, or weekend getaway. Each piece is constructed of lightweight and durable hardshell material, giving the set a modern look and a superior level of protection for your valuable belongings.
Each suitcase also features a four-wheel spinner system for easy maneuvering, as well as an aluminum telescopic-handle system which helps make navigation even smoother. Sturdy and secure zipper closures keep contents safe and secure, and the soft-touch carrying handles make lifting and carrying easy.
Travelers will appreciate the bright and inviting look of the Amazon Basics 3-Piece Set Hardside Spinner Luggage. Not only is it aesthetically pleasing, but also extremely practical with its exceptional protection, easy rolling, and secure closure options.
Hard Luggage Pros and Cons
Pros
In the past, hard-shelled luggage was prone to cracking if you happened to drop your bag or if airline staff mishandled it. These days, the polycarbonate/ABS shell allows for greater flexibility, as we mentioned earlier in the guide. This means if the luggage collides with a hard surface, it won't break. That's true whether you throw or drop the bag.  
Although you wouldn't think so, hard-side luggage can be quite lightweight. It weighs less compared to aluminum and plastic cases. Sometimes even soft-side bags end up weighing more.
The polycarbonate/ABS plastic used to make these bags is highly scratch-resistant. Seeing as how your bag will get scuffed up with use, it will not show signs of its age.
As we discussed in the first section, you never have to worry about precariously dragging your bag on two wheels with hard luggage. These bags come with four wheels as a standard, as the examples above showed.
The wheels on hard-side luggage can move and turn 360 flexible degrees. This means you can retain balance even if your bag is filled with a heavy load. You're also less likely to drag or flip the bag accidentally.  
If you so choose, you can customize your hard-side bag from the ground up. From fun patterns to unique colors, you can make your bag truly yours. When picking it up from the luggage carousel, you should always know which bag is yours right away.
Water and other liquids can roll right off most hard-side luggage, preventing your belongings from ever getting wet
Cons
Unlike soft-side bags, hard luggage often lacks side and front pockets. If you want to bring clothes and entertainment for the flight, you'd have to carry these items in your carry-on bag.
The structure of hard luggage, while sleek and well-defined, limits how much you can pack. Compared to soft luggage, you can't bring as much with a hard-side bag.
Another downside of hard luggage's rugged shell is that you're limited in where you can stash your bag. If it doesn't fit beneath your seat or in overhead storage, you can't do anything to change that. With soft luggage, it's possible to compress it down somewhat.
Despite having a shell of ABS/polycarbonate, soft-side bags are still known for their better durability over hard luggage.
What Classifies as Soft Luggage?
Your other option is soft luggage. The materials used for these bags include ripstop nylon, ballistic materials, Cordura, or woven nylon.
You'll often see ripstop nylon used in parachutes, so it's certainly a material that is built to last. Besides that use, many manufacturers favor ripstop nylon for semi-structured and structured bags.
Ballistic fabric has a shine and smoothness that makes it a sought-after material for soft-side luggage. The fabric can abrade, which means it breaks down with enough friction. If this happens, your soft luggage should still hold up because ballistic fabric is quite strong.
Cordura is a newer type of fabric that promises great durability and vivid colors that are also sustainable. It can handle abrasions without ripping or tearing, yet is somewhat soft and textured.
The denier count of these materials varies, contributing to a greater or lower luggage weight. With ripstop nylon, the material is also stronger the higher the denier.
Soft luggage opens and closes with an integrated lock or a zipper. Both inside and outside, you should find lots of convenient compartments and pockets for keeping all your favorite items close.
How Much Does Soft Luggage Cost?
Like we did for hard-side luggage, here are several soft luggage options – all from Amazon so that you can check them easily and weigh them for your hard vs. soft luggage choice.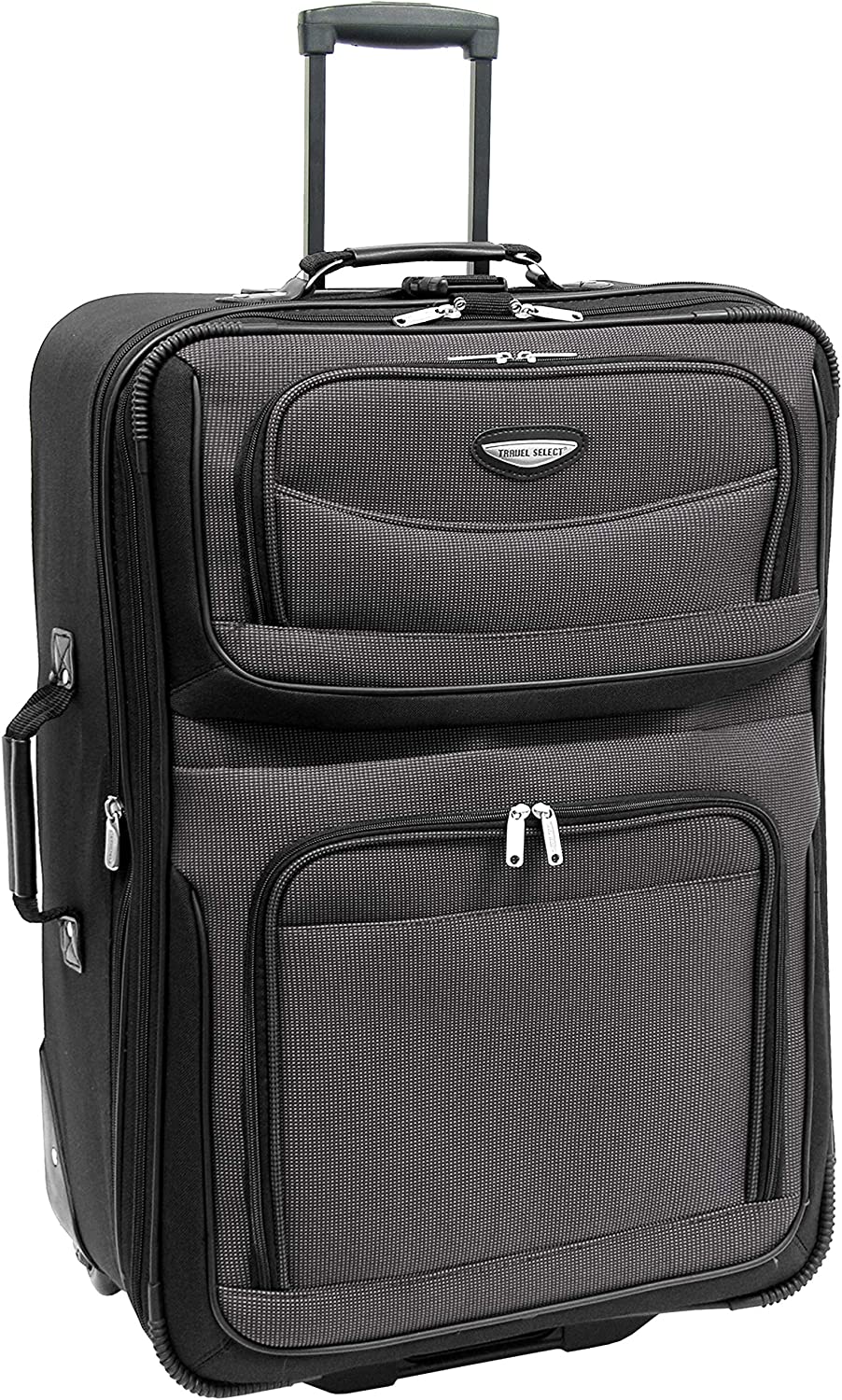 The Amsterdam from Traveler's Choice is a highly-rated yet inexpensive soft bag. You get a shoulder strap that's padded and non-slip for carrying portability. There are also plenty of zippers, including ones for shoe pockets and a mesh lid pocket inside the bag.
This soft-side luggage is nine inches deep, 15 inches wide, and 25 inches tall. The interior lining has tie-down straps made of elastic for better packing security. Speaking of security, you can lock or unlock your luggage with a push-button lock. The entire bag has PVC backing and a polyester base that's two-tone. The denier count is 1,200, which is quite high.
You can pick from colors like orange, navy, gray, and burgundy.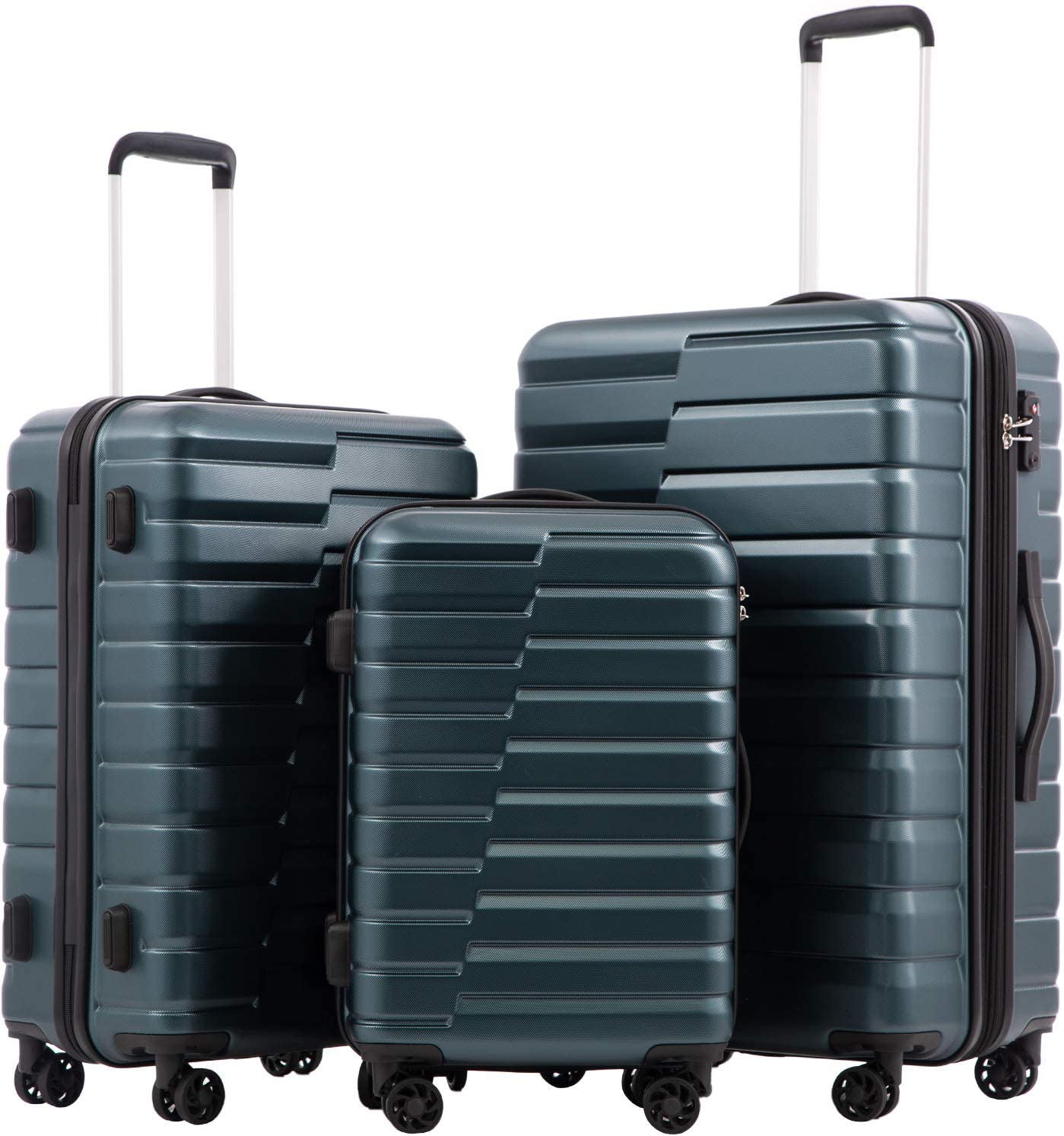 Here's another three-piece set, but this time it's a soft-side one from Coolife. The smallest bag is 20 inches, the mid-sized option is 24 inches, and the bigger bag is 28 inches.
The telescoping aluminum handle makes traveling with soft luggage easier than you ever imagined. You also get four spinner wheels, which is uncommon with a soft-side bag. The oxford cloth base with a 1,680-denier count includes nylon lining that has a 210 denier count.
All three bags come in color combos, such as silver and purple, silver and blue, red and black, and blue and black.
Yet a second winning AmazonBasics pick is this soft luggage. It comes in four sizes: 18 inches, 21 inches, 25 inches, and 29 inches. You can even get a three-piece set, although this will be costlier.
No matter the size, the bag includes dual spinner wheels with 360-degree flexibility. You can also increase your packing capacity by 25 percent thanks to expandable features. Inside the bag, you'll find storage pockets and fabric lining.
The telescoping handle makes this bag easy to pull anywhere your travels take you. You can also collapse the luggage for use on trains, planes, and in vehicles. There are only two color options available: navy-blue and black.  
Soft Luggage Pros and Cons
Pros
While it certainly depends on the particular bag, there are often a slew of front- and side-pockets on most soft luggage. This lets you keep all sorts of essentials handy, including a book, a jacket or sweater, a neck pillow, and more. This keeps you from having to stash them in your carry-on. Remember, this is a luxury you don't get with a hard bag.  
Soft luggage is very loose when it's empty. This is unlike hard-side luggage, which has a defined structure whether empty or full. The extra flexibility you get with soft luggage means you can pack more, fitting all your essentials into every little nook and cranny.
Since you can squish these bags down somewhat to make them more compact, they have greater traveling versatility. You can fit them under seats, in overhead luggage, and in other tight spaces.
Soft bags are regarded as more durable than hard-side ones. You should be able to get years out of use from them.
Cons
Since most soft-side luggage has just two wheels, you're at a higher risk of losing control of your bag, dragging or flipping it unintentionally.
You don't get nearly as many suitcase colors and designs as you do with hard luggage.
Unfortunately, if you get your soft luggage wet, the liquid could seep through to whatever's inside your bag. This can ruin clothes and other belongings. The bag will also retain smell, as the liquid gets absorbed into the fabric.  
Hard vs. Soft Luggage: How to Choose Between Them
With the pros and cons as well as pricing examples out of the way, let's get into how to choose whether hard or soft luggage is best for you.
Which is Less Expensive?
In the case of pricing, there is one clear winner in the hard vs. soft luggage contest. You'll almost always pay less for soft luggage than hard luggage. Only one piece of hard-side luggage cost less than $100, and that was the AmazonBasics bag. Every single soft bag we focused on was less than that per bag.
Which Looks More Appealing?
The looks of the bag are important, too. This will come down to personal preference. Some people like the fashionable quality of hard luggage. Others think the outdoorsy quality of soft luggage is quaint and charming. The appearance of one bag will appeal to you more than the other, and that's something you should consider.
Which Is More Lightweight and Portable?
Regarding weight, it's kind of a toss-up. Soft luggage isn't very heavy, that's for certain. The modern design touches of hard-shelled bags (such as their ABS/polycarbonate shells) make them more lightweight as well. We'd say this comes down to reviewing weight on a case-by-case basis.
As for portability, both bags are made to move. Hard luggage tends to roll along better since it comes with four wheels. These bags have 360 amazing degrees of movement so they will travel with you, not against you. That means even if you have a heavy bag, you shouldn't worry about it tipping over as you rush through the airport or weave in a crowded train station.
Don't totally discount soft luggage, though. The Coolife luggage set we covered includes bags with four wheels. This is pretty much unheard of for soft-side bags. Soft luggage with two more wheels gives you the ability to pull and tug your bag with you without worrying about it falling over.
For portability and weight, then, you can pick either bag and be fine.
Which Safeguards Your Stuff Better?
The interior compartments of soft luggage keep your items neatly tucked in and organized. The tough outer fabric can hold up to minor rips and tears without falling apart, leaving your possessions safe.
Hard-side bags, with their almost impenetrable shells, are also extremely adept at safeguarding your belongings. Unlike soft bags, hard luggage can resist water, too. There's never any risk of liquids soaking your stuff and leaving it odorous. You don't get that same guarantee with a soft bag.
Which is More Durable?
Lastly, let's discuss durability. You can't really go wrong either way here. The robust, flexible ABS/polycarbonate shell of hard luggage won't scratch or crack if the bag gets thrown or knocked down.
The materials used to make soft luggage are designed not to fall apart even if they have slight rips or tears. The same fabrics that go into parachutes are used for these bags, which is a huge testament to their quality.
No matter which luggage choice you make in regards to durability, it'll be the right one.
Polycarbonate vs. ABS Luggage
Does the thought of picking between polycarbonate and ABS luggage have you feeling overwhelmed? We hear you. The truth is, eachhas its advantages, and choosing the right one is simply a matter of personal preference. From their lightweight design to their ease of use, both types of luggage provide a secure and reliable way to transport your belongings when traveling.
In this quick section, we'll break down the pros and cons of both types, offering insight that will help inform your decision-making process. Let's dive in!
Advantages of Polycarbonate Luggage
Polycarbonate is a highly durable material that is often used to make hard-shell luggage. It is much lighter than aluminum or plastic luggage and usually weighs less than soft-side bags. Along with its lightweight design, polycarbonate is also scratch-resistant and can take a beating without showing signs of wear-and-tear.
Polycarbonate luggage is also designed with four wheels, making it easier to maneuver through crowded airports and train stations without having to worry about balancing or flipping the bag. The wheels on polycarbonate luggage can move and turn 360 degrees, allowing for better balance when the bag is filled with a heavy load.
There are also plenty of ways to customize polycarbonate luggage; you can choose to have fun patterns or unique colors, and you don't have to worry about it looking old or worn after lots of use. Additionally, polycarbonate is waterproof, so liquids won't be an issue if they come into contact with your bag.
Disadvantages of Polycarbonate Luggage
Although polycarbonate luggage is a great choice for many travelers, it does come with some disadvantages. Polycarbonate luggage tends to have fewer pockets and compartments compared to soft-side bags, which could make it difficult to store your clothes and other items.
The rigid shell of polycarbonate luggage also limits how much you can pack, making it harder to fit everything you need. Its structure may create an issue when trying to store the bag in a small space, such as an airplane seat or overhead storage. Moreover, soft-side bags are generally considered to be more durable than polycarbonate luggage.
Advantages of ABS Luggage
ABS (Acrylonitrile Butadiene Styrene), is a type of thermoplastic that is used to make tough and reliable luggage. ABS plastic is impact-resistant, so it won't crack or break when it is dropped or mishandled. It is known to be highly durable and can even handle corrosive chemicals with ease.
ABS luggage also typically comes with four wheels, making it easier to move around crowded areas. Furthermore, ABS luggage is usually lightweight and can be used for both short and long trips.
Disadvantages of ABS Luggage
Similar to polycarbonate luggage, ABS luggage lacks front and side pockets and compartments, which could make it difficult to store important items. ABS luggage may also be slightly heavier than polycarbonate luggage, and it is less customizable in terms of patterns or colors.
Hard vs. Soft Luggage Conclusion
The debate of whether to pick hard or soft luggage is one that can plague travelers, especially with as many purchasing options as there are nowadays. The good news is, no matter which type of bag you select, you can be sure you'll have a durable, high-quality piece of luggage.
While both hard-side and soft-side luggage have their cons, the benefits far outweigh them. In their own way, both bags are portable, lightweight, flexible, and ready to accompany you wherever your travels take you.
If you were undecided between hard and soft luggage, we hope this article helped you make up your mind!