With your busy schedule, you don't have time to take a long vacation – but you can spare a weekend. You'll be gone for between two and three days, so you certainly don't need to pack too much. This is where knowing how to pack a weekender bag comes in handy.
But, what if a situation calls for a coat or a pair of hiking shoes? What should you include as you pack for a weekend trip?
To pack a weekender bag, the key is to go light:
No more than three pairs of shoes (flat/comfortable shoes, formal shoes, and flip-flops/sandals if going to the beach; otherwise, boots for the cold)
Basic toiletries like a toothbrush, toothpaste, floss, a hairbrush, skincare products, and medication
Three pairs of socks and three pairs of underwear
Four shirts suited to the temperature as well as a light jacket or sweater 
Two sets of shorts or pants
In this article, we'll tell you exactly how to pack a weekender bag with the above items and provide tips for success. We'll even share some of our favorite weekender bags in case you don't have one. 
Let's get started!
What Is a Weekender Bag?
First, let's get into the definition of a weekender bag. If you're the type who doesn't travel light or only goes on long vacations, then you may not have ever used a weekender bag before, let alone own one. 
While we can remedy that issue in this article (keep reading to the end!), you'll want to know what you're looking for before you begin shopping for a bag. 
A weekender bag, as the name tells you, is intended for trips lasting two to three days, i.e., a weekend. These bags have unisex styling, so they suit both men and women. Some definitely have more feminine stylings, but certainly not all. 
Weekender bags are not quite duffel bags or rucksack bags, nor are they athletic bags; most measure 1 ft. x 1 ft. x 2 ft. That makes them good enough to use as a carry-on if you took your weekend trip via plane, and also makes them a great luggage option for tall people as well.
Weekender bags often have a softened body that lets you pack in as much as possible. Their shape, typically rectangular or thereabouts, also provides plenty of space for packing. You can unzip your weekender bag across the top. As for handles, you either go for a briefcase-style or a shoulder strap. (Although some have both for convenience and portability.)
With their base made of leather, canvas, nylon, or combination materials, weekender bags are decent in the durability department. If you treat yours well, you can enjoy it for years to come. Rough travelers who beat their bags up might not have a weekender for long. 
Also, these bags never have wheels. If yours does, then you haven't bought a true weekender. Generally, you shouldn't bring objects so heavy that you require bag-wheels to carry it. 
What to Pack in Your Weekender Bag
In this section, we want to expand on the info we shared in the intro and discuss what to pack in a weekend bag.
Tech Devices, Gadgets
Today, the average person has a handful of tech devices. Smartphone? Of course. Computer? You bet. Tablet? Sure. Then, with devices like cameras and smartwatches, all our tech gets even more cluttered as we travel. 
These devices are also expensive. As we said about weekender bags, they're decently durable. Nevertheless, it would be a shame if you stuffed your iPad into a corner of the bag, then slammed that bag down on the floor during your travels (by mistake, of course). 
Then, when you arrive at your destination and unpack, you see a huge crack in your iPad's screen. It might not even work anymore.
Yeah, that's a pretty bad situation to be in, but it's also one that's totally avoidable. You see, most tech devices do the same thing. You can check emails, make calls, browse social media, and watch videos on your phone as you can on your iPad and even your computer. 
So, bring just one of these devices. 
If it's your phone, you can keep in your pocket or purse and never even have to pack it in the weekender. That reduces the rate of your favorite tech device getting lost, misplaced, or broken on your trip, and makes it easier to know what to pack in a weekend bag. 
Toiletries
Most hotels will provide mini soaps, small shampoo and conditioner bottles, toilet paper, and towels. Lucky for you, you don't have to bring your own stuff unless you're confident the hotel won't have these things. 
On the other hand, we advise you to pack toiletries such as a toothbrush, toothpaste, a hairbrush, floss, and mouthwash. 
Skincare and Medication
You also want to keep your skincare and medication in your weekender bag, unless you can go a few days without this stuff (which we don't advise for medication!). 
Do make sure you at least pack sunscreen. Your skin will thank you. 
Shoes and Footwear
As we said in the intro, stick to no more than three pairs of shoes or footwear for your weekend trip. Remember, you're only going away for a few days, so too many shoes are unnecessary.  
Which shoes should you bring? 
First, you want one pair of casual, comfortable shoes, such as sneakers. 
Second, pack a pair of formal shoes as well.
Third, a pair of shoes that will vary depending on the ultimate destination as well as the time of year you're traveling. 
You're rarely flying cross-country for a weekend trip, but hey, it can happen. What's the forecast like? If it's balmy, summery temps, then bring a pair of flip-flops or sandals. If it's cold out, then skip the summer shoes and take some boots with you. 
Swimwear
Again, whether you need swimwear depends on where you're going. If you do bring any, take a single swimsuit. Reversible ones are your friend, since they look like two different suits even though they're not. 
You better pack a beach towel, too. Walking around the pool or beach in the white hotel towel isn't a great look. 
Socks and Underwear
Limit how many socks and underwear you bring. You only need three pairs of socks and the same amount of underwear: another shortcut for knowing what to pack in a weekend bag.
If packing that sparsely makes you feel anxious, then up the quantity to four pairs each. This way, you have a spare in case you need it. Don't exceed four pairs, though. Again, you're only going to be gone for a weekend. (Worst case scenario, you can hand-wash one of the pairs or even buy some if, for some reason, you desperately need another.)
Shirts
That's why you don't need a lot of shirts, either. Four is more than enough, especially if you're only traveling for two days. If the weather is warm, then take t-shirts and tank tops. In cooler weather, long-sleeved shirts and sweaters suffice. 
Even if you're packing for warmer climates, have a light jacket or sweater. You never know if you'll need it, and in this case, it's better to have than have not. This is one of the few mistakes for packing that can wreak havoc on your weekend plans!
Shorts or Pants
If we're talking denim shorts and pants, then these are incredibly resilient. Hence, you only need one to two pairs of each. The second pair can add some versatility to your wardrobe and save you in case you stain your first pair.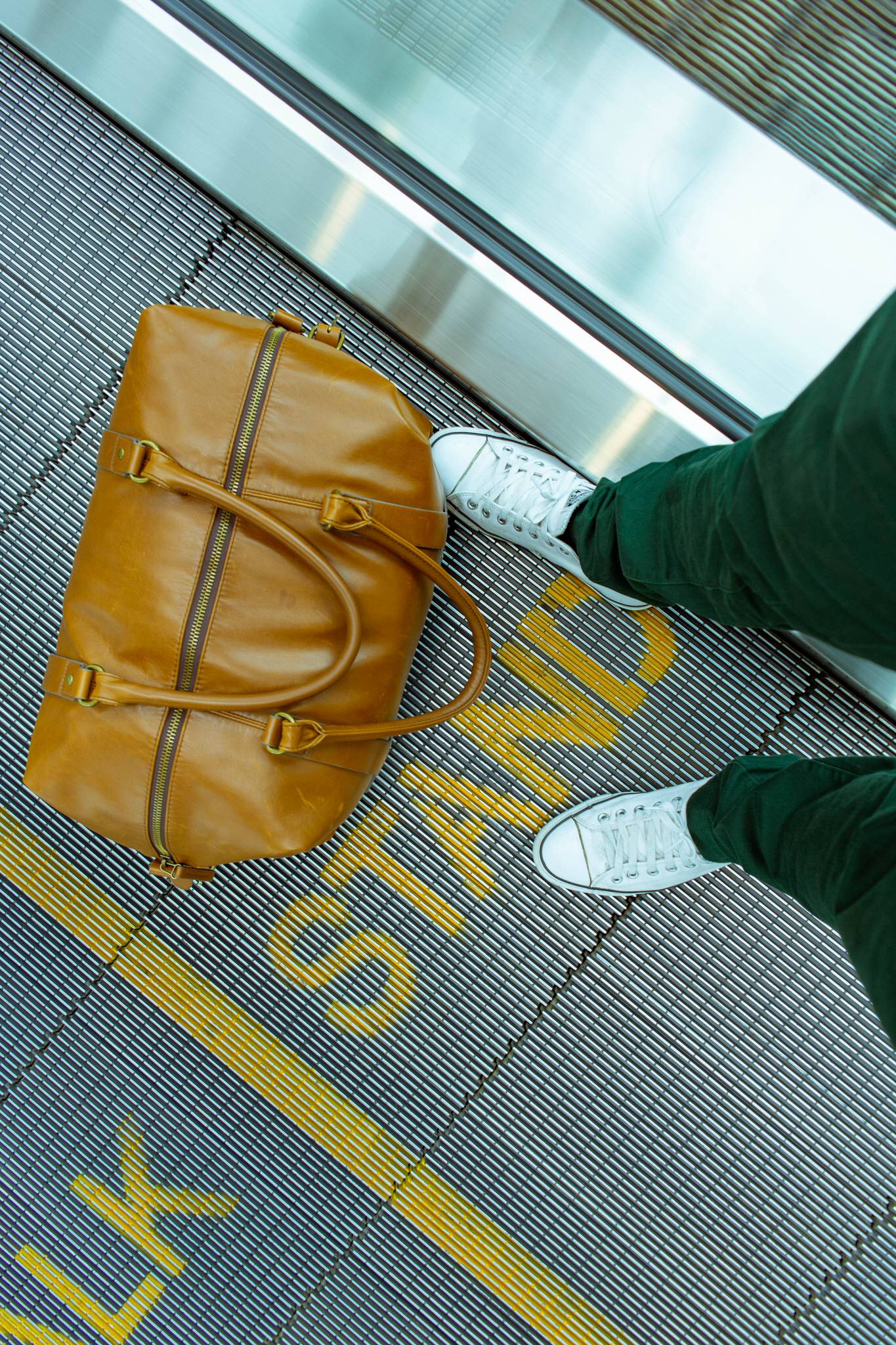 What to Pack in an Overnight Bag
When it comes to quick trips, knowing what to pack in an overnight bag can save you time, stress, and extra luggage. Below, we've gathered some essentials to ensure that you're prepared for whatever your short adventure might bring.
Clothing: Even if it's just one night, you'll want a fresh change of clothes. Bring along comfortable sleepwear, underwear, and an outfit for the next day that's suitable for your planned activities. Don't forget weather-appropriate outerwear and accessories.
Toiletries: Personal hygiene is important, so remember to include travel-sized versions of your toothbrush, toothpaste, shampoo, conditioner, soap, and any other daily essentials in your overnight bag. You might also want to pack a razor, deodorant, and a small towel.
Medications and First Aid: If you take prescription medications or have specific medical needs, ensure you bring enough for the duration of your trip. It's also a good idea to pack a small first aid kit with items like band-aids, pain relievers, and any allergy medication you might need.
Snacks: In case you get hungry during your travels or at your destination, pack a few non-perishable snacks like granola bars or nuts in your overnight bag.
Electronics: If you're bringing your phone, tablet, or laptop, remember to include the necessary chargers and cables. A portable power bank can also be a lifesaver if you're unable to access an outlet.
Entertainment: While you might not have much downtime, it's always nice to have a book, magazine, or a downloaded movie or show on your device in case you need a little entertainment during your trip.
Identification and Important Documents: Last but not least, be sure to pack your identification, as well as any necessary documents like travel tickets or reservations, in your overnight bag.
By carefully considering what to pack in an overnight bag, you can make your short excursion much more enjoyable and stress-free. Remember to tailor your packing list to your specific needs and the nature of your trip, and you'll be ready for a successful overnight adventure.
How to Pack Your Weekender Bag
Now that you know what to put in your weekender bag, here are some of our top tips for packing it.
1. Use a Pouch for Lingerie
If you're making it a romantic weekend or just bringing an extra bra, you don't want these items accidentally exposed while traveling. That's why a pouch comes especially in handy. Any pouch that can fit your lingerie works, including cosmetic pouches. Make sure it zips and you'll be fine. 
2. Bring Smaller Bags
Reusable, foldable smaller bags can truly add convenience to your trip. For instance, if you're going to the mountains or the beach for the day, you can keep all your daytime items in the smaller bag so you can leave your weekender at the hotel. You could even use this smaller bag as a laundry bag so your clean clothes don't have to sit in the same space as your dirty ones. 
3. Use Small Containers for Toiletries
Above, we mentioned several toiletries you might want to bring with you for the weekend. Unless it's sunscreen, there's often no need to lug around full bottles of mouthwash and skin cream. 
Invest in small, reusable plastic bottles and transfer your essentials into these. Label each one so you don't mistake your items. 
Something to do: make sure you give the tops of these reusable plastic bottles a tight turn or ten. You don't want any of the bottles opening while you carry your weekender around. Not speaking from experience, but… that'll ruin your weekend, fast.
4. Roll up Outfits Together
You know the clothes you wear – especially the outfits you reach for again and again. You probably threw in an outfit or two like this for your trip. Why not pack these items together? To do so, roll them up into one. 
You can also bundle them: start by making a pouch out of a pair of underwear and two socks. This becomes your core. Then, take your shirt and shorts/pants and secure them around this core.
Voila, you have a bundle you can wear. You can pack two or three such bundles and you're all ready for your trip. 
This packing method is quite useful on longer vacations, too. You never have to waste valuable time wondering what to wear because you pre-packed all your outfits. 
5. Separate Your Shoes
When packing your sneakers, dress shoes, or heels, you want to make sure they have their own bag. You can even layer plastic grocery bags if you forget to buy a shoe bag ahead of time. 
Not only does bagging up your shoes keep them scuff-free, but it also prevents them from transferring dirt to your clothes and toiletries. 
6. Put Flat Shoes at the Bottom or on the Sides of Your Weekender
If you decide to bring flip-flops or sandals, these flat items can fit just about anywhere in your weekender bag. You can start your packing by putting the flip-flops first and then the rest of your stuff on top. 
And, if you don't like that method or your bag is packed but you forgot the flip-flops, don't stress. You can just as easily tuck the shoes in your bag by slipping them into one of the sides.
Again, make sure you think about bagging up your flip-flops or sandals in a way that keeps them from making everything else dirty and sandy. 
7. Have a Spare Bag for Wet Clothes
If you plan on going to the beach or jumping into that hotel pool, we recommend you take yet another spare bag with you. This way, you can stash your wet towels and clothes in it. 
Before you cram wet stuff into a bag, why not use a drying rod at your hotel and let the swimwear and towels air dry first? Then, when they're mostly dried, you can put them in the bag. 
Doing this not only keeps your clothes dry, but it lessens that chlorine smell that can reek. Plus, fewer bacteria lingers on your stuff. 
8. Use Sealing Bags for Socks and Underwear
If you're not following the bundling technique we listed above, then get some of those reusable sealing bags for your trip. You can put your socks and underwear in these, decompress the air, and then your socks and underwear will take up the least amount of space possible. 
Flying and carrying bottles of wine? Check out this article: Will Wine Explode on a Plane?
Our Favorite Weekender Bags
Do you have a weekend trip planned and need the perfect bag for your short voyage? 
Check out this assortment of weekender bags. If you'd like to know how much each bag is going for on Amazon, click on either of the links we've added to find their current prices.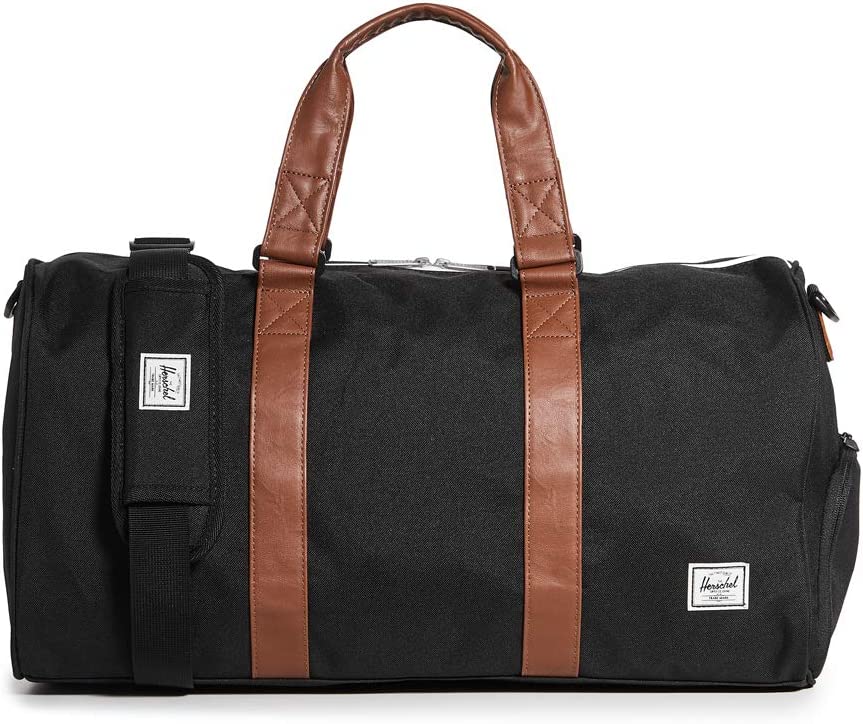 Our first bag is from the ever-popular Herschel, their Novel Duffel Bag line. It has a clean exterior, with a compartment for shoes, and an interior that's large enough for anything from gym equipment to your weekend-traveling goods. 
You get both a shoulder strap and dual loop handles for carrying the bag from your car to the hotel or anywhere else your adventures take you.
This Herschel Novel Duffel Bag has a synthetic leather body and trim, creating a durable build throughout. You can get this weekender in hues like black tan, rose tan, and much more.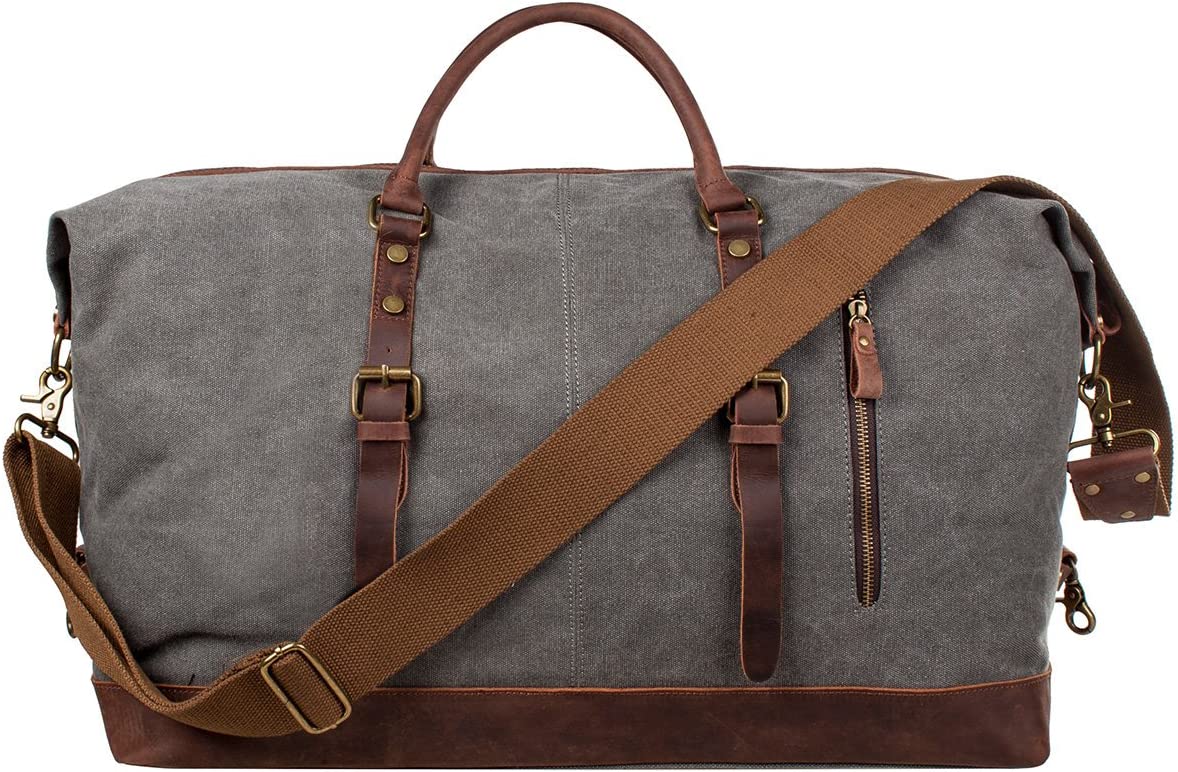 We also quite like this stylish pick from S-ZONE. As an Amazon's Choice product, this bag has a design that will appeal to both men and women. This weekend bag is also made of canvas with a leather bottom and leather details throughout, including the carrying handles. This leather comes purposely scratched, scarred, and slightly wrinkled to give it that weathered, worn look. 
The weekender measures 10.2 by 14.8 by 21.7 inches. The included hardware is a solid zinc alloy. This bag also has a detachable shoulder strap. 
S-ZONE's bag comes in six colors: khaki brown with dark brown leather, gray with brown leather, dark gray with deep brown leather, coffee with dark brown leather, army green with brown leather, and blue with dark brown leather.
Another Amazon's Choice bag, the BOAHSA weekender bag definitely has a more feminine style. The bag isn't small by any means, but you can definitely bring it on most flights as a carry-on. It's made of rich faux leather as well as canvas. It measures 16 by 12 by 8 inches.
The canvas is always striped, but you can choose the color. Your options include sky blue and white stripes, purple and white stripes, khaki brown and white stripes, black and white stripes, and dark blue and white stripes.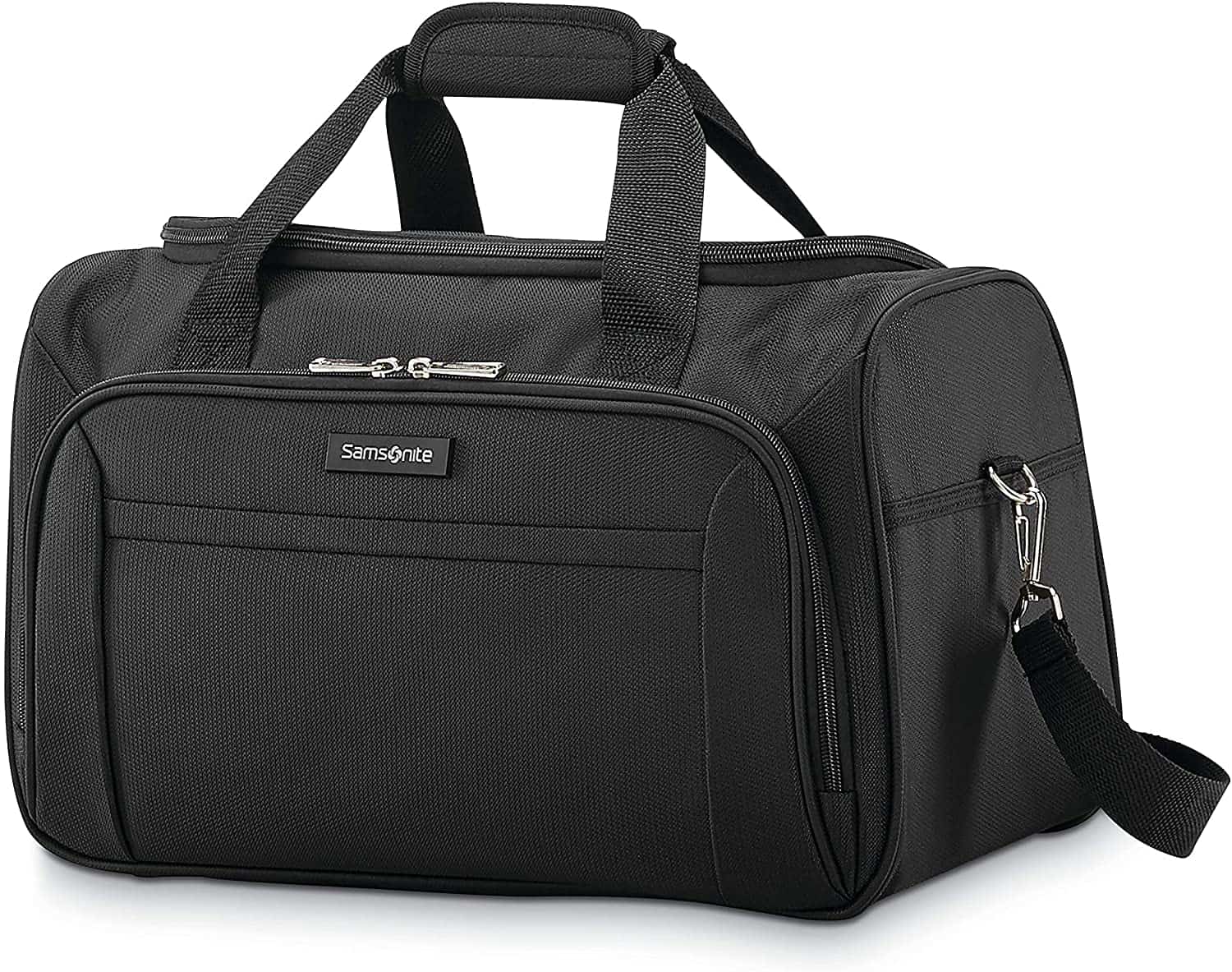 Yet another Amazon's Choice product, you'll quickly fall in love with Samsonite's Ascelle X Weekender. It's a durable, clean-looking bag in a duffel style that measures 10 by 17 by 9 inches.
Furthermore, this Samsonite bag comes with a 10-year warranty from a long-standing brand that you can trust.
We like the Ascella X because of the brand behind it, but also the numerous compartments on the interior and exterior, the accessibility of them all, and the removable shoulder strap. Lastly, this bag comes in one color, and that's what's shown above: black on black (with a little black on the side).
How to Pack a Weekender Bag
A weekender bag is a decent-sized piece of luggage meant for traveling for a few days at a time. It can fit a few pairs of clothes, socks, and underwear, as well as a limited selection of shoes, toiletries, and travel-friendly tech devices. 
The tips and advice we presented in this article should assist you as you pack, even if you've never used a weekender before. 
Have fun on your trip!