You're taller than most people. Not only do you have to worry about squeezing yourself onto airplanes without bumping your head, but there's the issue of your luggage, too. It always feels like you're dragging it along behind you awkwardly. Is there such a thing as "luggage for tall travelers?" If so, what are your best options?
Yes! There's specific luggage for tall travelers. These bags and suitcases can often expand for more packing room or have longer pull bars for when you're wheeling your luggage around.
The best luggage options for tall travelers (descriptions and pictures below!):
Interested in any of these bags for your travels? You're in luck. In this article, we'll expand on each piece of luggage, including specs, sizes, features, and availability. This way, you can shop for a bag that properly fits your height before your next big trip.
The Best Luggage Options for Tall Travelers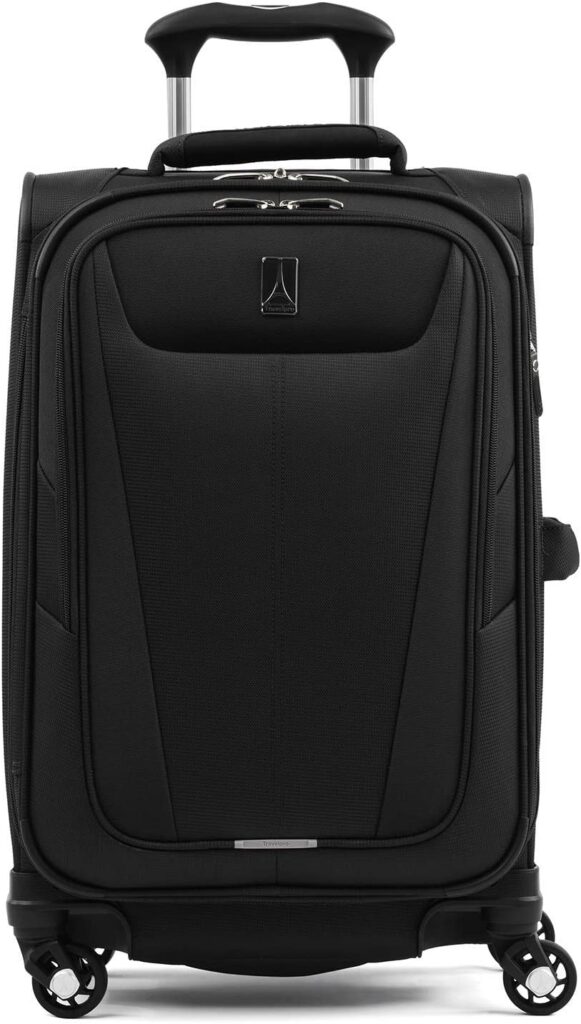 Another great pick for taller passengers comes from Travelpro. Their expandable spinner bag weighs 7.2 pounds and measures 23.5 inches by 14.5 inches by 9.5 inches. You can change the case dimensions as needed, with two additional inches of padding, if it helps.
With a PowerScope Extension Handle, you don't have to worry about the bag ever wobbling. You can set the handle at three heights: 38 inches, 40 inches, and 42.5 inches. You also get eight sets of spinner wheel pairs. These move at 360 degrees for plenty of freedom. With a magnet, the wheels never get too out of alignment.
The bag has a ballistic nylon interior base. SUPRA zipper heads will remain sturdy for years. Other features include a hanging garment bag you can take out, as well as straps, wet pockets, side mesh, an interior lid pocket, and side and top carry handles made of premium leather. The entire bag has a DuraGuard coating so it won't scratch or stain.
You can select from hues like Patriot Blue, Navy, Mahogany Brown, Indigo, and Black.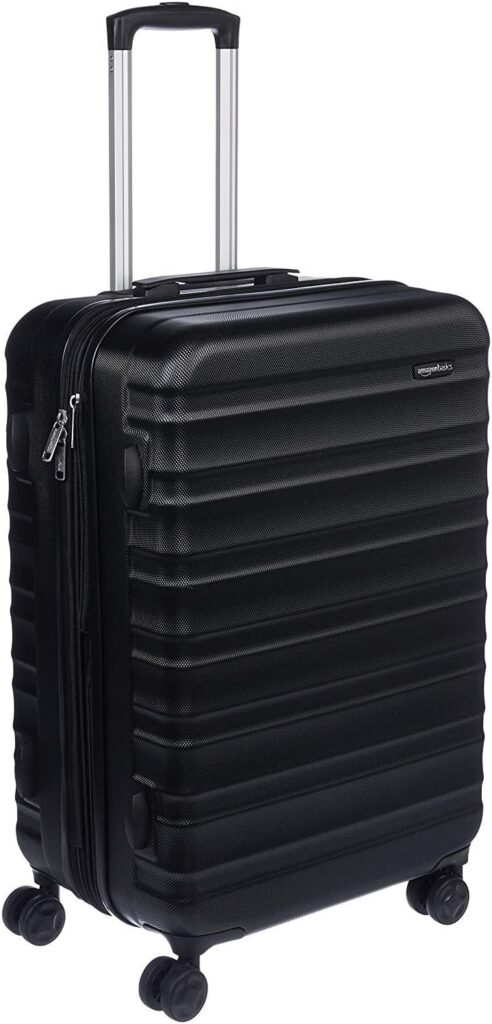 You have the option of three sizes for your AmazonBasics hardshell spinner luggage: 20 inches, 24 inches, or 28 inches tall. This luggage earns its name from its double spinner wheels, of which this bag has four. All of these wheels allow you to move along more smoothly on airport floors and other smooth surfaces. These wheels can stop on a dime, too, which means no more scraping up your ankles with your luggage.
If you need more room, you've got it. You can increase the packing capacity by 15 percent with adjustable features. Other noteworthy elements of this bag include a mounted carrying handle, a telescoping handle you can make longer or shorter, and durable zippers.
Inside the bag, you'll find three zippered pockets as well as an interior organizer. The entire interior is made from polyester with a 150-denier count. Outside, this hard-shelled ABS plastic bag has a glossy shine you'll love. Lastly, this bag only comes in one color: navy blue.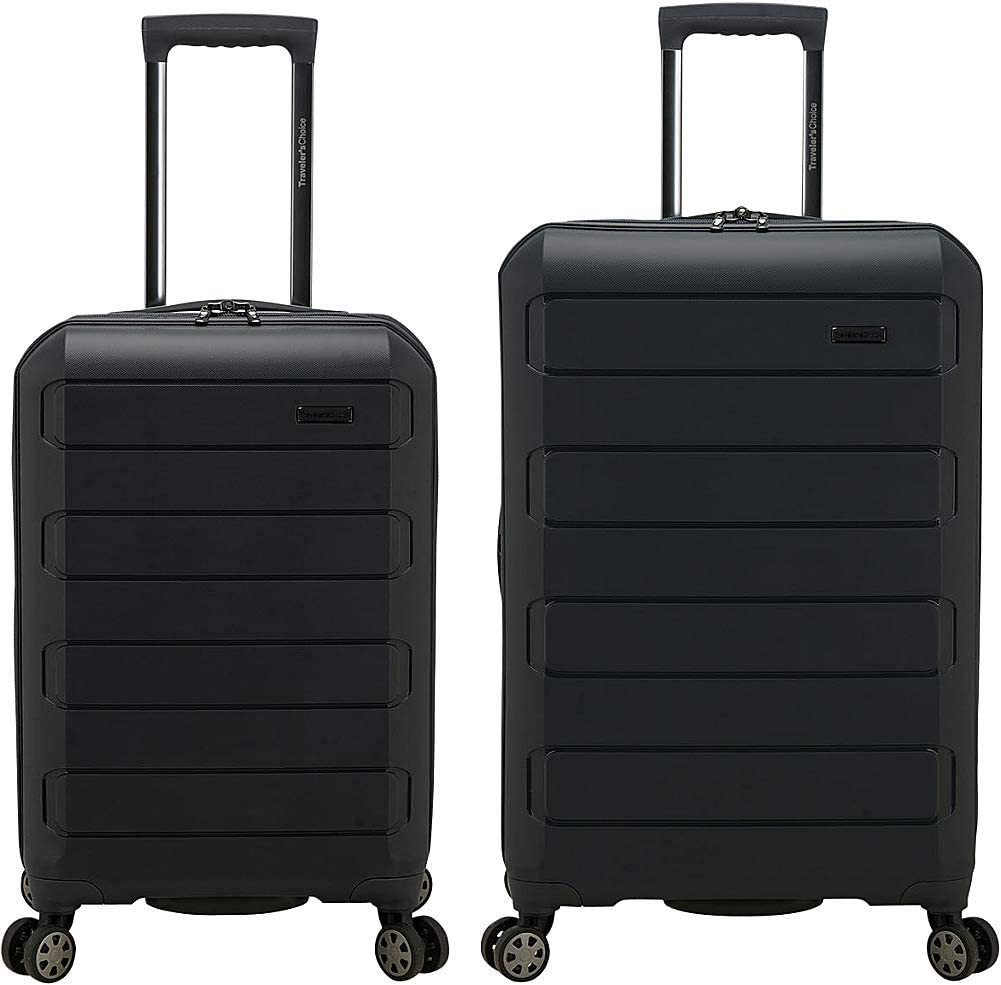 This Pagosa 2-piece luggage set by Traveler's Choice is a perfect choice for travelers who want to stay connected. The set includes a 26-inch expandable checked spinner luggage and a 22-inch carry-on expandable spinner luggage, both made with textured polypropylene hard-shell material that is abrasion-, scratch-, and water-resistant.
The spinner wheels provide 360° rolling maneuverability, while the expansion gusset provides up to 2-inch of extra space. The 22-inch carry-on spinner features a built-in USB port, type C port, and an interior power bank compartment for quick connection to your portable electronic device for a quick charge.
The telescopic handle is adjustable and has a push button mechanism for easy use, especially for tall travelers. Top and side rubber carry handles provide easy lifting and carrying, and the large interior compartment features multiple zippered pockets.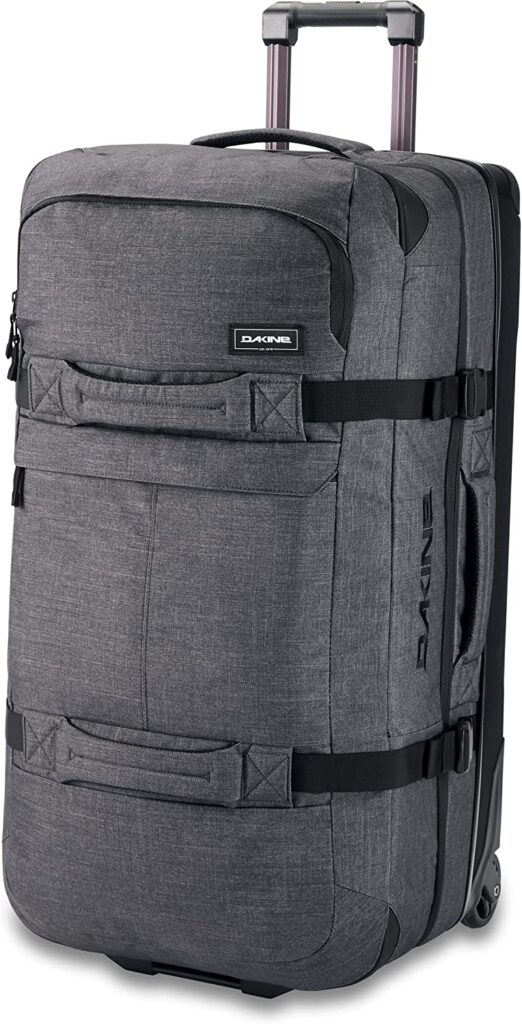 Here's a softer option in case you wanted some variety. Dakine's split rolling luggage has a ripstop polyester base with a 600-denier count that looks trendy. It also makes for an incredibly efficient traveling choice. The bag weighs 10 pounds and measures 32 inches tall, 13 inches deep, and 17 inches wide.
With YKK lockable main zippers, you can quickly pack up and get going. A Split-Wing Collapsible Brace will also aid you in packing, as it holds your stuff and then can compact when not in use. You'll appreciate the split levels for organizing all your traveling essentials as well.
We love the wealth of fun, funky colors, and patterns you can choose from for your Dakine bag.
These color-and-pattern options include:
Seaford Pet: allover teal blue
Pine Trees: bright navy green with orange accents
Waimea: a darker teal blue with flowers and leaves in pink, white, and light blue
Thunderdot: allover black with white streaks and small shapes
Squall: allover black with a puffy texture
R2R INK: allover light gray with black accents
Night Sky: allover navy with black accents
KASSIA: a tie-dye with purple, bright blue, orange, pink, and white
Zion: a stripe pattern in light gray, dark gray, cream, and black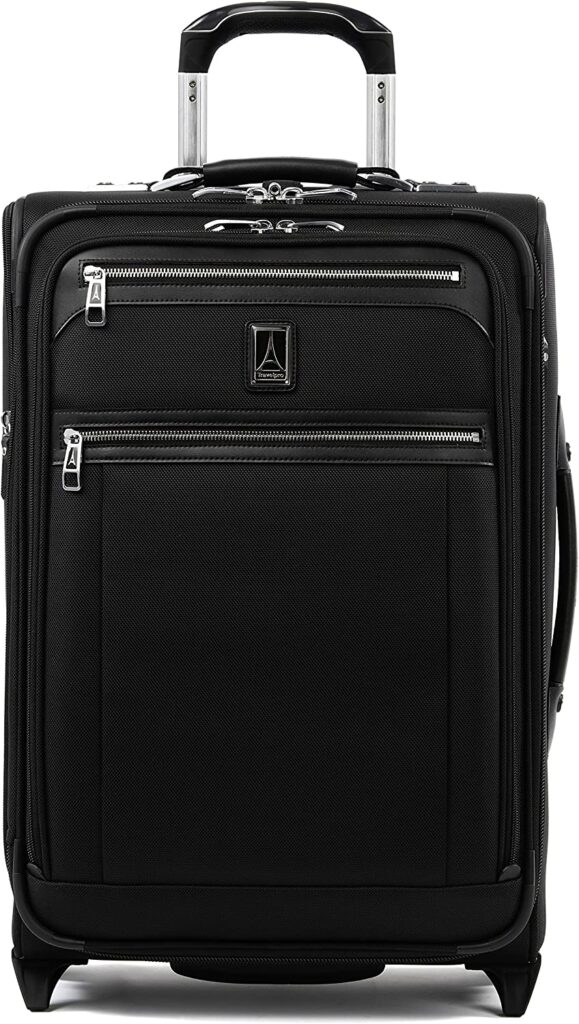 Our last pick is another one from Travelpro. Their Platinum Elite Rollaboard bag measures nine inches by 14 inches by 21 inches. It includes a fold-out suiter that will prevent your clothes from wrinkling or getting ruffled on your adventures. You also get a small wet pocket, several accessory pockets, and an interior tie-down system for keeping all your items secure.
The ball-bearing wheels come sealed so they last longer and roll more quietly and smoothly. You'll quite like the aluminum extension handle from PowerScope, as it's airline-grade. You can set it to four heights: 36 inches, 38 inches, 40 inches, and even 42.5 inches.
If you dig around, you'll find an external USB port attached to your Rollaboard luggage. You can add your own powerbank to charge your phone without ever having to chase down the scarce outlets in the airport. With a fabric lining and a ballistic nylon exterior, this appealing bag could become your new favorite. It comes in three colors: Vintage Gray, Shadow Black, and Rich Espresso.  
Ever given thought to whether you should go with hard or soft luggage? Read our Hard vs. Soft Luggage article to learn more!
Tips for Tall Travelers
Now that you've got your luggage all taken care of, here are some handy tips for tall travelers.
To prevent your knees from hitting the airplane seat in front of you, request a spare pillow. You can place it in front of your knees so they're not achy by the time you get to your destination.
Often time you can raise your headrest, so don't forget to do so! Now, if you doze off, you can have pleasant dreams instead of neck pain.
Your shoes are likely to take up a lot of room in your luggage. If possible, pack the smallest pairs and wear the largest ones. Also, use that opening in your shoes for all it's worth! Within the openings of your shoes, pack socks, thinner shirts, underwear, anything else that fits.
Choose tall-people-friendly airlines. For instance, Southwest Airlines offers 32 inches of legroom, as does Virgin America. On Jet Blue flights, you get 33 inches. Most other airlines provide 31 inches or less, which can lead to a less comfortable flight.
Luggage for Tall Travelers – Conclusion
As a taller passenger, you have to choose your luggage carefully. A bag that doesn't have an extendable carrying handle could bump your ankles and drag awkwardly. If your luggage isn't tall enough, you also may not be able to fit all of your stuff in it.
The luggage we showcased in this article would suit a tall traveler such as yourself exceptionally well. You can't go wrong with any of the options we laid out above – best of luck!