Even needing airline compensation for lost or delayed luggage… It's one of the worst feelings in the world. 
You get off the plane at your destination and wait for your luggage to arrive at the carousel, but you never see it. 
Your heart's in your throat. You wait for the luggage to do another go-around, but still nothing. Getting more upset, you talk to someone at the airline. They say your luggage is delayed, or – worse yet – lost. 
Can you get compensated for your lost or delayed luggage? How?
To get airline compensation for lost or delayed luggage, you should do the following:
Keep your checked luggage receipts and your boarding pass, as you'll need these
Find an airline employee and ask for a Property Irregularity Report or a damage claim form
Finish this form now, not later
If you have your bags, let the employees check them for damage
If your bag is lost, the airline will search for it and get it back to you; otherwise, you'll receive compensation afterward
The same applies if your bag was delayed
Your rights can differ somewhat if you're flying internationally, but don't worry, as we'll fill you in on what to do for overseas flights as well. Also, in this article, we'll talk about the process of filing a claim and how much money you should expect to get. 
Let's begin!
When Should You File for Airline Compensation?
Your luggage is by no means cheap. If you have a nice set of bags, then you probably spent several hundred dollars on them, at least. That's not even considering what you could have inside the bag. 
Maybe you lost a few everyday items, but some people could be bringing priceless keepsakes with them when they travel. It would be heartbreaking to have these misplaced or lost.
That brings us to the question: when is it appropriate to file for airline compensation? Here are three such scenarios in which you might do so. 
Delayed Luggage
This is the situation we described in the intro. You're all excited about your flight to a new and fabulous land. Once you get there, you quickly realize you're without your luggage and belongings. You wait and wait while the carousel spins and more people pick up their bags, but yours never show. 
There are plenty of reasons why your luggage may have gotten delayed, but we do want to make this clear: your luggage is late, not lost. You won't have it right away, and you'll have to come back and get it somehow. It's inconvenient, but you will see your stuff again. Try not to panic and make a bigger deal out of the situation than necessary.
If your luggage will only be a few hours late, then you might opt to wait at the airport for it to arrive. If it's going to be considerably longer, such as a day or more, then you may ask the airline for compensation. After all, you have to buy the items you're now missing. 
Damaged Luggage
While most airlines will take precautions to keep your luggage and bags in good condition, this doesn't always happen. Sometimes, you get your stuff back only to see a huge ding in your luggage. Maybe there's nothing outwardly wrong with your bags, but when you get to your hotel later and unpack, you realize your stuff is smashed, destroyed, or ruined.
In such an instance, since the airline is responsible for the damage, you could put out a claim for compensation. 
Lost Luggage
Let's go back to the scenario of you waiting – and waiting – at a near-empty baggage carousel with your luggage never appearing. Instead of the airline employee saying that your luggage has been delayed, they tell you they're not sure where it is. They make a few phone calls and talk to a couple of colleagues and reach the conclusion that your luggage has vanished.
Uh-oh. Now, in such a scenario, it's normal and natural to freak out. Before you have a full-blown meltdown, though, stop for a second and breathe. Here's a little infographic courtesy of AirHelp that ought to put your mind at least partially at ease.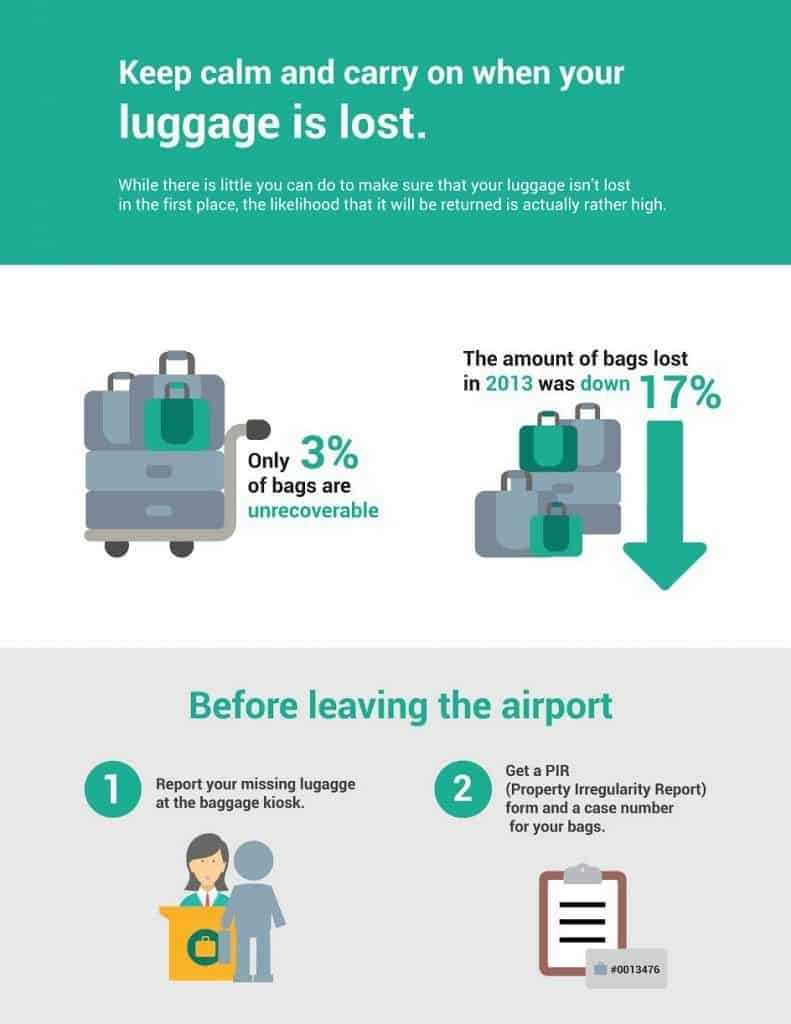 Unless you're in that very small group of three percent of people, then the airline will find your bag at some point. The problem becomes how long it will take them to do it. Just like when your bag is delayed, you don't have any stuff, including toiletries. 
You could have also lost your smartphones, laptops, tablets, chargers, cash, and other valuables. This is where you should follow the tips below and file for compensation from the airline you traveled with after a certain period of time. 
How Long Do You Have to File for Lost Luggage Compensation?
Once you realize your luggage has gone missing or is damaged or lost, you must act quickly. Most airlines only give you a certain amount of time in which to file a claim, so the sooner you do so, the better. Per an article on UK resource Citizens Advice, here's how much time you have to put your claim in:
If you receive your luggage and it was damaged, you have a week (i.e., seven days) from the day you receive your luggage to make a claim. 
If your luggage went missing and you get it back to find it's been damaged, you have seven days from the day you received your luggage to put your claim in.
If your luggage has been gone for more than 21 days, then it's considered lost. You can formally submit a claim at the 21-day mark.
If your luggage is delayed, then again, wait for 21 days and then make your claim.  
What Documents and Paperwork Do You Need to Begin the Process?
Your luggage is either delayed or lost; perhaps when you do get it, it's damaged. Either way, you've decided you want to officially put in a claim to receive compensation from the airline. Which paperwork and documents should you ensure you have so that the process goes smoothly? 
Let's talk more about these now!
Checked Luggage Receipts
To prove that the airline mishandled, mismanaged, or straight-up lost your luggage, you must have a checked luggage receipt. This shows the airline was the last party to have seen or had your luggage, not you. Without a checked luggage receipt, it's hard to make a case for yourself. The airline might c3laim that you lost, misplaced, or damaged your luggage yourself but you want to milk some money out of the airline anyway. That's not a pleasant situation to be in. 
Boarding Pass
Again, your boarding pass is another form of proof that shows that yes, you did decide to fly on this particular airline on this certain day, thus bringing your luggage with you. It's not always mandatory to have your boarding pass on you, but you want to have it handy if possible. 
Flight Documents
In lieu of a boarding pass, your flight documents might suffice as you file a claim against the airline for compensation. This should include your flight reservation number, a code that has six digits in all. These are a combination of numbers and letters unique to you. Your flight documents show you chose to fly with this particular airline. 
If you've got cost estimates, photos of the damage, credit card statements, receipts for replacement items, and email correspondence between you and the airline, make sure to have these documents ready as well. They could help you receive compensation. 
What Information Should Go in Your Claim?
Okay, so you've gathered all your relevant documents. What information should you put in your lost/damaged/delayed luggage claim? This depends on the airline and the type of form they produce.
Here's an example of a lost baggage claim form, courtesy of British Airways. 
They say you should first talk to an airline employee to let them know you can't find your bags. Then, complete the form, which asks for this information:
Title (Mr. Ms., Mrs.)
First and last name
Address or P.O. box (+ zip code)
Email address
Phone number
The country in which you have an active bank account
Name of your banking institution
Your account number at this bank
Your flight number
The day you flew, where you flew to and from, the airport from which you departed, and which airlines you may have carried your luggage through before it went missing
The number of bags or luggage you checked
Whether you paid for excess baggage
The number of bags that went missing or were delayed or damaged
A receipt reference of the luggage in question
A reference number from your Property Irregularity Report (more on this in the next section)
A full description of the luggage in question, including whether it was delayed, damaged, or lost, as well as a bag-tag receipt, the bag's make and model, color, how much you paid for it when you bought it, the type, and the size
A full list of items you had to buy as replacements for your delayed or lost luggage, such as how many items, the cost, a description of the items, the store in which you purchased them, and the date of purchase
Not every airline has a baggage form like British Airways. In such a situation, you might get asked to draft up your own claim letter. You need all the same pertinent information in this letter, including replacement items you had to buy and how much they cost, what you lost or what was damaged, and your flight info. 
Make copies of the supporting paperwork and documents and attach them to the letter.
Follow These Steps to Get Airline Compensation for Lost or Delayed Luggage
Here's a breakdown of the steps to follow to file an official claim for airline compensation both inside and out of the United States.
In the US
Talk to an employee at the airline about your missing, delayed, or damaged luggage.
Present your checked luggage receipts and your boarding pass. Remember, your flight document can replace a boarding pass.
If your luggage was damaged, make sure you don't leave the airport until making an official claim. If your bags are lost or delayed, you have up to three weeks or 21 days for your claim.
Receive your Property Irregularity Report or damage claim form and complete it. Do not miss any form fields.
If the airline does not offer the above forms for any reason, write out a letter. Be as detailed as possible.
If your bags were damaged, an airline employee might ask to look them over. At this time, they may offer compensation for luggage replacement or repairs. 
If your bags are delayed or lost, the airline will begin the search for them. You will have to wait until your bags are returned to you. If three weeks have passed and your bags haven't shown up, file for compensation. 
Outside of the US
What if you're flying internationally? Should you follow the same steps as above? 
In short, yes. This could vary by airline, though, so always ask a representative what to do about lost, damaged, or delayed luggage. 
We also want to talk about the Montreal Convention. This regulation from 2003 is also known as EC 261. 
As of this writing, over 120 nations across the world follow Montreal Convention regulations. These dictate that if you happen to lose your luggage when traveling internationally, you could get compensated for it. 
Keep that in mind whenever you travel overseas. 
How Much Money Can You Expect to Get?
According to Travel Insurance Review, you'll receive the least amount of money from an airline if your luggage gets delayed. The site claims the amount you'll get "is very limited." In some instances, you can receive money for emergency use, but that depends on the airline you choose. Also, you may only get travel vouchers instead of cash. If you need to replenish the items you don't have on you, that comes down to you. 
With travel insurance, it's possible to get up to $500 to replace your temporarily lost items. However, that's not coming from the airline itself. You'd pay for this plan out of your own pocket beforehand. If you only travel occasionally, we'd say such a plan isn't worth it. Only frequent travelers should consider it. 
What if your luggage got damaged? Depending on the airline, you may receive partial or full compensation to cover the contents of your luggage or the luggage itself if it's damaged. 
Lost luggage is taken much more seriously. If your stuff is truly gone for good (and remember from that infographic earlier that that just doesn't happen much – we traveled constantly for nearly two years and they never even misplaced ours), then AirHelp says it's possible to get up to $3,400 in compensation for each person who lost their luggage. If you opt to get protection for lost valuables, you could receive even more money. 
How Long Will It Take to Receive Your Money?
So you've calmed down to some degree and decide to file a claim towards your airline for misplaced, damaged, or lost luggage compensation. How long will it take for you to receive your money?
That depends on a few factors. First, the speed of compensation will certainly differ depending on which airline you choose. Bigger, better-known airlines can probably solve most claim disputes faster compared to smaller airlines. The speed in which you file your claim may also make a difference. 
The extent of the claim also matters. If your luggage is right in front of you and it's obviously broken and you can prove the airline is at fault, then that should put the money in your hand much more quickly. If you have a more drawn-out dispute over luggage that may be delayed or missing, then it could take longer for you to receive compensation.
As you recall, you have up to three weeks to report delayed or missing luggage and request compensation for it. That window can slow down the entire process as well. 
How to Get Airline Compensation for Lost or Delayed Luggage – Conclusion
So, what did we learn?
A fun trip can quickly become terrifying if you find out your luggage has gone missing or is delayed. The same is true if your bags turn up in the carousel, broken and damaged. 
In any of these situations, if the airline is responsible, then you can claim compensation to replace your luggage and even the contents inside. While lost luggage can take up to 21 days to be considered lost, most other claims should be filed as soon as possible, with all of the information we pointed out above.
By knowing your rights, keeping your flight documents handy, and filing a claim right away, you have a higher chance of receiving compensation (and receiving more quickly!). It's always a bummer when your stuff goes missing, not to mention a major inconvenience. 
If the airline can pay you to make up for their mistake, you should always take advantage of that. Best of luck!