Oh no! You misjudged the size of that puddle and accidentally pulled your luggage right into a massive pool of water. Darn. You try to dry the bag off the best you can, but now you're concerned. Did you just ruin the bag and all the stuff in it? That depends on what your bag is made of, and where it falls in the waterproof vs. water-resistant bags discussion.
If you need superior protection from puddles, rain, and other sources of water, use a waterproof bag. These are made to resist water and keep your possessions dry. Compare that to water-resistant bags, which have a coating that sloughs water off. This coating doesn't last forever, though.
In this article, we'll examine the waterproof vs. water-resistant bags debate and define each type of bag. We'll also explain the differences between waterproof and water-resistant materials. Finally, we'll showcase some bags that offer water protection. This way, you'll have everything you need to know to keep your belongings dry on your travels.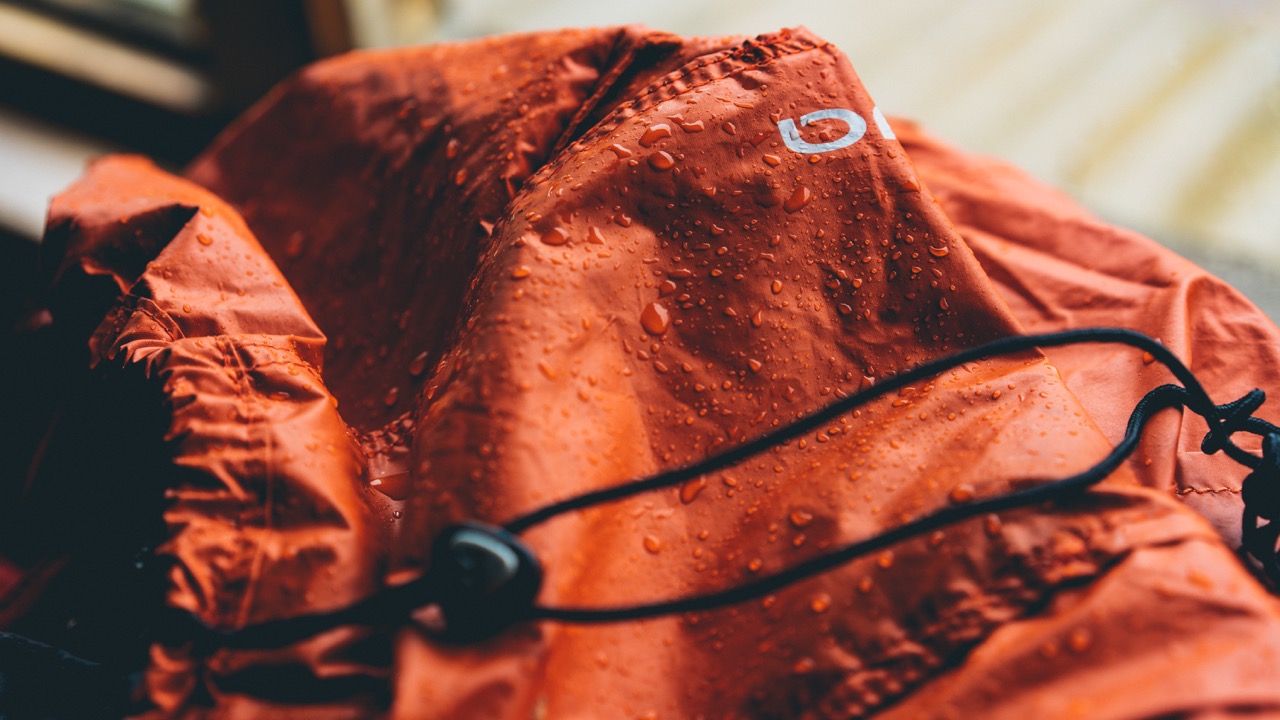 Waterproof vs. Water-Resistant Bags… Let's Define the Two.
What Does Waterproof Mean?
"Waterproof" and "water-resistant" might sound like they mean the same thing, but they actually couldn't be more different. Let's say you were to dunk your luggage into a bathtub or a swimming pool. Okay, so you wouldn't ever do that, but let's say you could.
If you had a waterproof bag, nothing bad would happen. Your stuff inside the bag would remain dry.
Why would you ever need a bag that couldn't get soaking wet through the inside? You wouldn't, at least not often. If you're traveling somewhere with whitewater rapids, then maybe. Perhaps you go to the beach with your bag and it gets too close to the ocean. That's another good use for a waterproof bag.
Otherwise, you probably don't ever need a completely waterproof bag. Still, it's better to have it and not need than need it and not have it, right?
What Does Water-Resistant Mean?
Now, let's get into water-resistant bags. If you were walking by a body of water and happened to fall in with a water-resistant bag, more likely than not, your stuff will get waterlogged and ruined.
That doesn't mean a water-resistant bag has no purpose – quite the contrary. If you happen to get caught in the rain, a water-resistant bag should hold up. This becomes especially true if your bag comes with coated zippers. These zippers keep all pockets and openings from getting soaked and full of water.
As for the fabric used to make water-resistant bags, it's not so great. That's why most of these bags come with a water-resistant coating. We'll talk more about fabrics in the following sections, but we had to touch on this coating now. That's because, unfortunately, the water-resistant coating presents one of the biggest downsides to a water-resistant bag.
This coating is applied during the manufacturing process, and it does not last forever. Each time you use your bag, the coating gets worn away, little by little. Once your bag has no more of its water-resistant coating left, it's as good as useless against liquids. It will not repel water in any way. The structure of the bag itself and its fabric weave (again, more on this in the next sections) cannot prevent water from getting in the bag. That means each time you take this formerly-water-resistant bag out in wet conditions, it comes back soaked. So, too, does all your stuff.
Waterproof Materials
Manufacturers can waterproof almost any material used for bags, including zippers. Then there's the fabric of the bag itself. Unlike water-resistant bags, which often have a protective coating, waterproof bags have none.
Instead, the very fabric of the bag provides superior water protection. How? A waterproof bag is all about eliminating holes. That's why the zippers come coated or covered. This way, they prevent any gaps in the bag.
The fabric must have airtight properties, meaning no holes at all. If there's even a slight little gap, water can get in. You can then no longer call the bag waterproof. That's why sailcloth has become such a popular pick among manufacturers for waterproof bag material. Sailcloth includes several layers. These can catch moisture and keep it from getting inside the bag.
Also, manufacturers will rigorously test a bag before they advertise it as waterproof. They will submerge the bag in water to ensure no openings exist for water to get in. If there are even the tiniest holes due to stitching or other assembly measures, the manufacturer will have to fix them.
Today, many manufacturers rely on ultrasonic soundwaves as a means of melting fabric into place without any holes, even microscopic ones. Alternately, manufacturers will use thermoplastic welding to attach plastic parts of the bag. Both methods ensure the bags are genuinely waterproof.
Water-Resistant Materials
The materials used to make water-resistant bags do not offer the superior wetness protection waterproof bags do. As we mentioned, they often include a coating to make them more durable in the rain and other wet conditions. This coating will come off with time.
The fabrics for making water-resistant bags often have holes. Even by pulling the fabric tighter by weaving, manufacturers cannot completely shrink these holes. That's why they apply the coating over the top. It makes up for the holes. (Well… until it's gone.)
If you don't mind spending a bit more money, you could find a water-resistant bag made from sailcloth, which may come with a coating for extra durability.
Waterproof vs. Water-Resistant Bags: Which is Better?
While you hope you never have to submerge your bag in water, if you did, would you like to find out, the hard way, that it's not waterproof? Probably not.
That's why we recommend choosing a waterproof bag if you can. If not, then a bag with some waterproof elements works almost as well.
Water-resistant bags have too much variability. You never know just how much water a water-resistant bag can truly… well, resist. If it has a decent coating, then sure, you could get months or years out of it. If it doesn't come with the coating but relies on its fabric to keep your stuff dry, you just don't know how well that will work.
That isn't to say that you should altogether avoid water-resistant bags. If you only do light traveling, then this bag suffices. The same's true if you don't do a lot of outdoor adventuring and won't risk getting caught in the rain much. There's no need to go to all the trouble of getting a waterproof bag in those instances.
If you'd rather have more protection than less, then we suggest you go the waterproof route. You might never need its superior anti-liquid protection, but if you ever do, you'll be glad you have it.
When it comes to finding the perfect waterproof bag, you will have to do your homework. Sometimes bags that say they're waterproof aren't entirely so. They have some water-resistant elements. Depending on your traveling needs, you might not mind this. However, if you want a truly waterproof bag, you'll have to double-check to make sure you have one.
The Waterproof Bags to Buy
The MARCHWAY Floating Waterproof Dry Bag comes in five sizes: five liters, 10 liters, 20 liters, 30 liters, or 40 liters. Whether you want to go fishing, hiking, camping, boating, to the beach, or on any other travels, you won't want to forget your MARCHWAY.
You can compress this bag, roll it down, and buckle it so you can travel efficiently. The bag can even float in this state. The built-in shoulder strap lets you shift from carrying the bag on your arm or across your body.
With a plug buckle, you can completely seal all the contents of the bag shut, so they never get wet. In fact, the roll-top closure is one of the MARCHWAY's waterproof features. The brand uses a ripstop tarpaulin to make the bag. All seams get welded to prevent holes. Not only that, but the material used for this bag won't puncture, rip, or tear.
You can select from a slew of colors, including red, pink, orange, light blue, gray, green, yellow, dark blue, blackish green, and black.
Designed like the previous bag, you also get several sizes to choose from with your Unigear Floating Waterproof Dry Bag. These are several size options: 2 liters, 5 liters, 10 liters, 20 liters, 30 liters, and 40 liters. This bag is also intended for all sorts of water-based activities, like kayaking, boating, canoeing, swimming, and more. Of course, you can also bring it on your travels.
When it comes to waterproof vs. water-resistant bags, Unigear made their bag completely waterproof in several ways. It has double-sewing throughout to keep the bag free of holes, gaps, and other openings. With D-rings reinforcing stress points, the bag has fewer chances of ripping.
This bag also has abrasion-resistant features so it can handle dirt, dust, and sand without ripping, tearing, or scraping. The 600-denier PVC base includes a roll-top closure designed for keeping all your favorite stuff safe and dry.
You can select from colors like yellow, white, sky blue, red, orange, neon green, dark blue, army green, and black.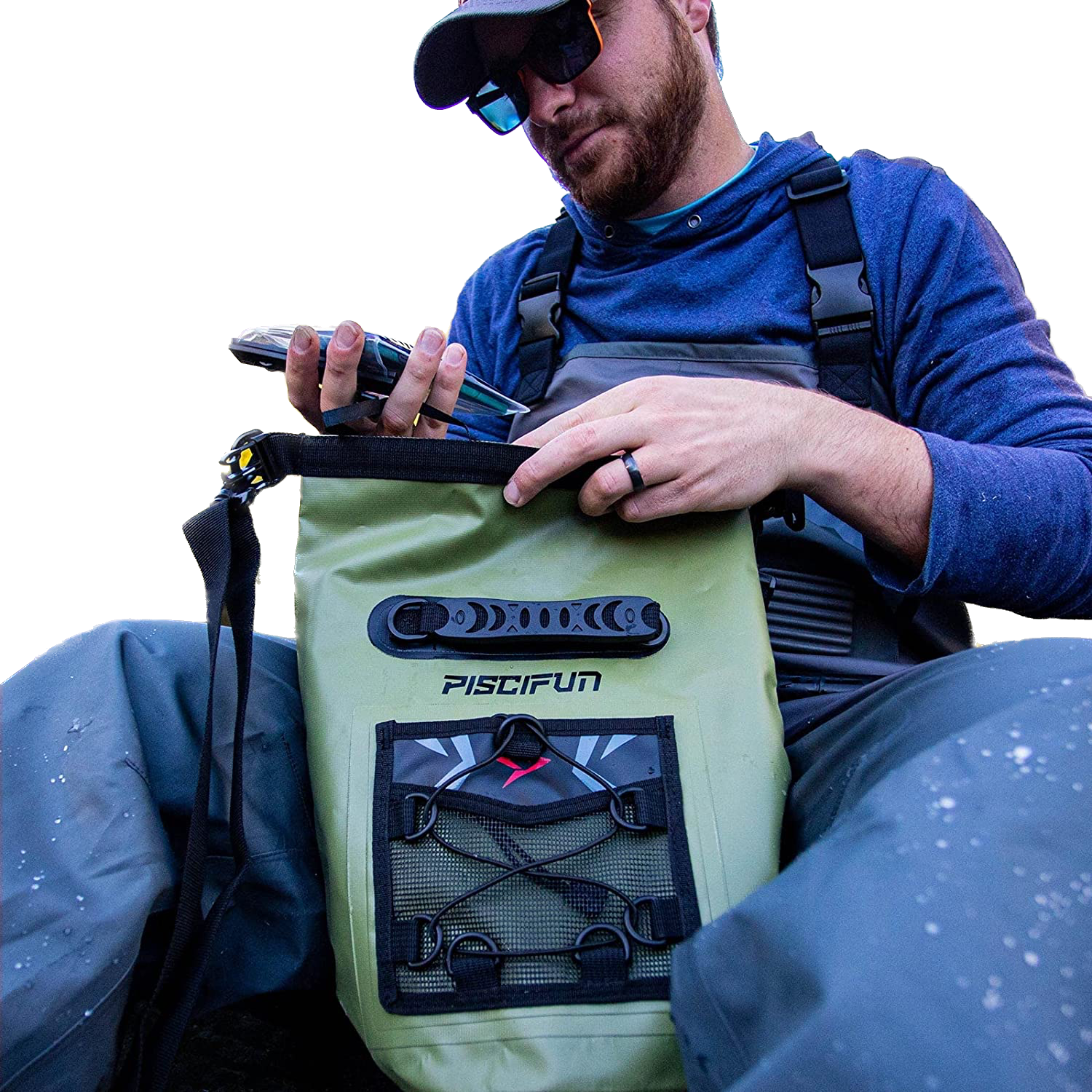 A favorite among Amazon users, the Piscifun Waterproof Dry Bag might become your new fav, too. It includes a waterproof phone case that's IPX8-certified. The case fits phones of 6.6 inches and will keep them completely dry.
The bag itself has welded seams to make it truly durable. This Piscifun bag also features a roll-top closure that doesn't let water leak in via the top of the pack. The entire bag is made of PVC that's 500-denier. With padded carrying straps for comfort, you even get an outer mesh pocket with elastic rope for keeping your essentials close.
Available in 10 liters, 20 liters, 30 liters, and 40 liters, you can also pick from several bright colors. These include yellow, army green, sapphire blue, orange, lime green, light blue, and black.
The Water-Resistant Bags to Buy
You don't want to mess around when it comes to your laptop, right? Of course not. That means keeping it secure and dry on all your travels. The ibagbar Water-Resistant Messenger Bag can come in handy for this.
This bag measures five inches wide, 12 inches tall, and 14 inches long, which means that if you have a laptop that's at up to 14 inches in size, it should fit. A padded compartment will keep your computer and any other valuables safe on your adventures.
You get a total of nine pockets. These include a back zipper pocket, an inner zipper pocket, dual open inner pockets, a front button pocket, a front zipper pocket, and the main zipper pocket. The entire bag is made of oxford fabric with water-resistant qualities. The buckles on the front secure the bag closed. With reinforced sewing, you can rest assured your computer and other electronics will stay dry.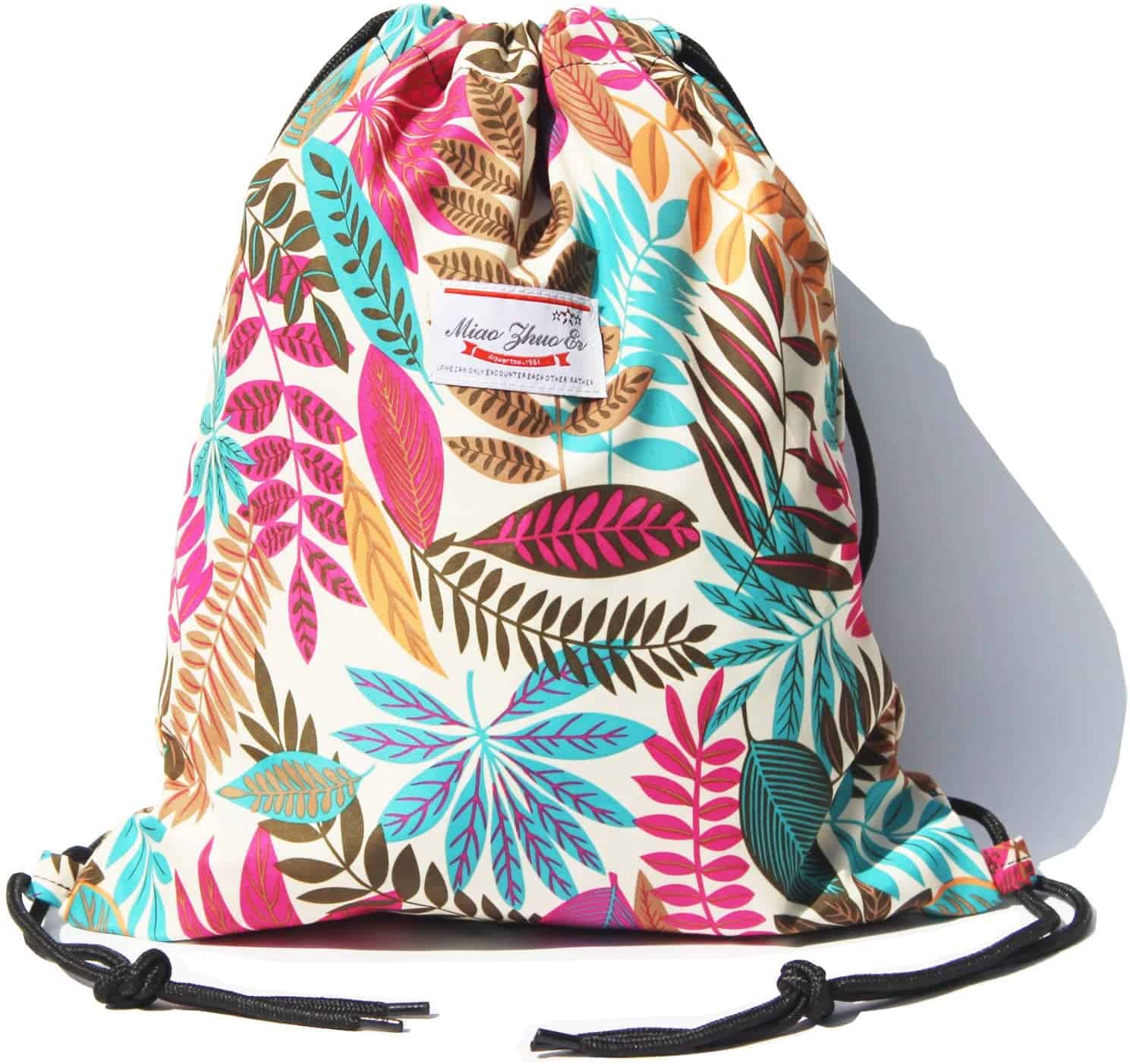 If you'd rather carry a backpack than a messenger bag, may we recommend this backpack from Alpaca? It's got tons of interior and exterior pockets that are perfect for carrying everything from your phone to a wallet, keys, and so much more.
This lightweight bag has some waterproof features, but the rest are water-resistant. Lightweight, the bag measures 13.5 inches wide and 15.7 inches tall. It closes via a drawstring to keep your favorite travel items dry.
This Amazon's Choice bag comes in a slew of fun colors and patterns. These include colorful leaves, bright florals, tropical palm fronds, abstract water-painted shapes, feathers, pineapples, cartoony animals, and more.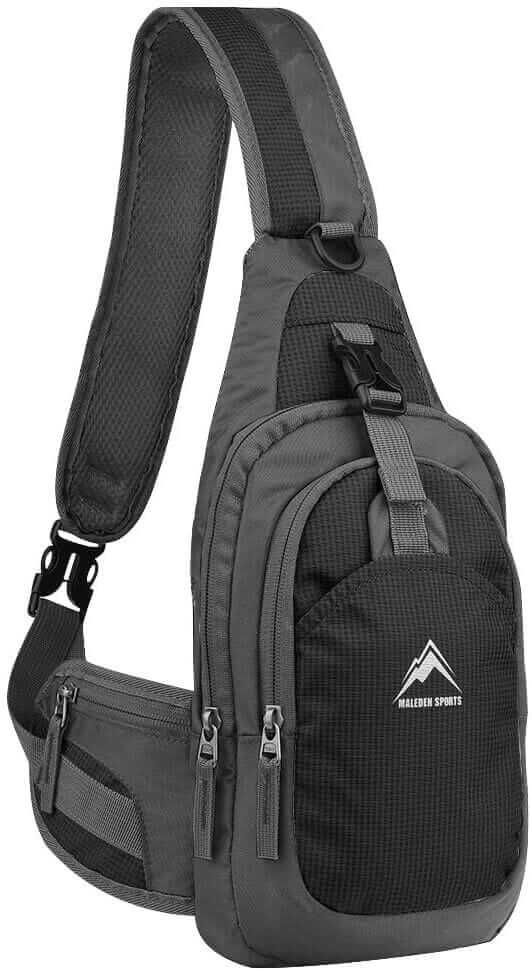 An inexpensive pick that looks far pricier, MALEDEN's Water-Resistant Sling Bag is made mostly of nylon. The colored part of the bag has water-resistant properties that are sure to keep your stuff dry. Whether you want to go walking, bike-riding, swimming, or kayaking, this bag can come with you. It's also perfect for everyday traveling.
You carry this bag on your shoulder. The padded material, also breathable, will make running through the airport with this bag a breeze. You can adjust the satchel strap as needed, so the bag is lower or higher on your body.
With three layers in the bag for holding belongings, you can bring just about anything you want. Recommended items include travel sundries, a wallet, power bank, smartphone, eight-inch tablet, and two water bottles of a standard size.
This nylon bag comes in colors like red, purple, orange, green, blue, and black.
Our last pick for water-resistant bags comes from Mancro. Their water-resistant laptop bag can hold computers of up to 17 inches. As a backpack, it has curved shoulder straps with plenty of padding.
The metal zippers should resist water, as should the nylon body. You even get a combination lock meant to ward off would-be criminals. As if that isn't cool enough, you know what else comes with this Mancro bag? An included USB charger with its charging cable. Rather than running for the next available outlet on your travels, you can rely on this.
The inside of the bag has nine interior pockets with two sealed side pockets as well as three main pockets. You can get the Mancro laptop backpack in black camouflage, dark gray swirl, dark red, crest blue, dark blue, black, and light gray.
Waterproof vs. Water-Resistant Bags – Conclusion
Waterproof and water-resistant may sound like interchangeable terms, but they aren't. When it comes to the waterproof vs. water-resistant bags discussion, it's simple: a waterproof bag doesn't let any water in. You could submerge this bag, and all your stuff would stay safe. The material and stitching promise airtight protection.
Water-resistant bags may have a coating that prevents water from getting to your belongings. The coating works excellently while it lasts, but it will definitely fade away with time. After that, your bag most likely loses its water-resistant properties.
The bags we covered in this article make for great traveling companions. Whether you want the full protection a waterproof bag offers or less water protection with a water-resistant bag, you have plenty of options to choose from.