So you want to avoid wrinkles and take advantage of every cubic inch in your luggage – right? If so, are packing cubes worth it for you? Yes, absolutely!
And, if you've only come here for this and some recommendations, check out our editor's choice down below!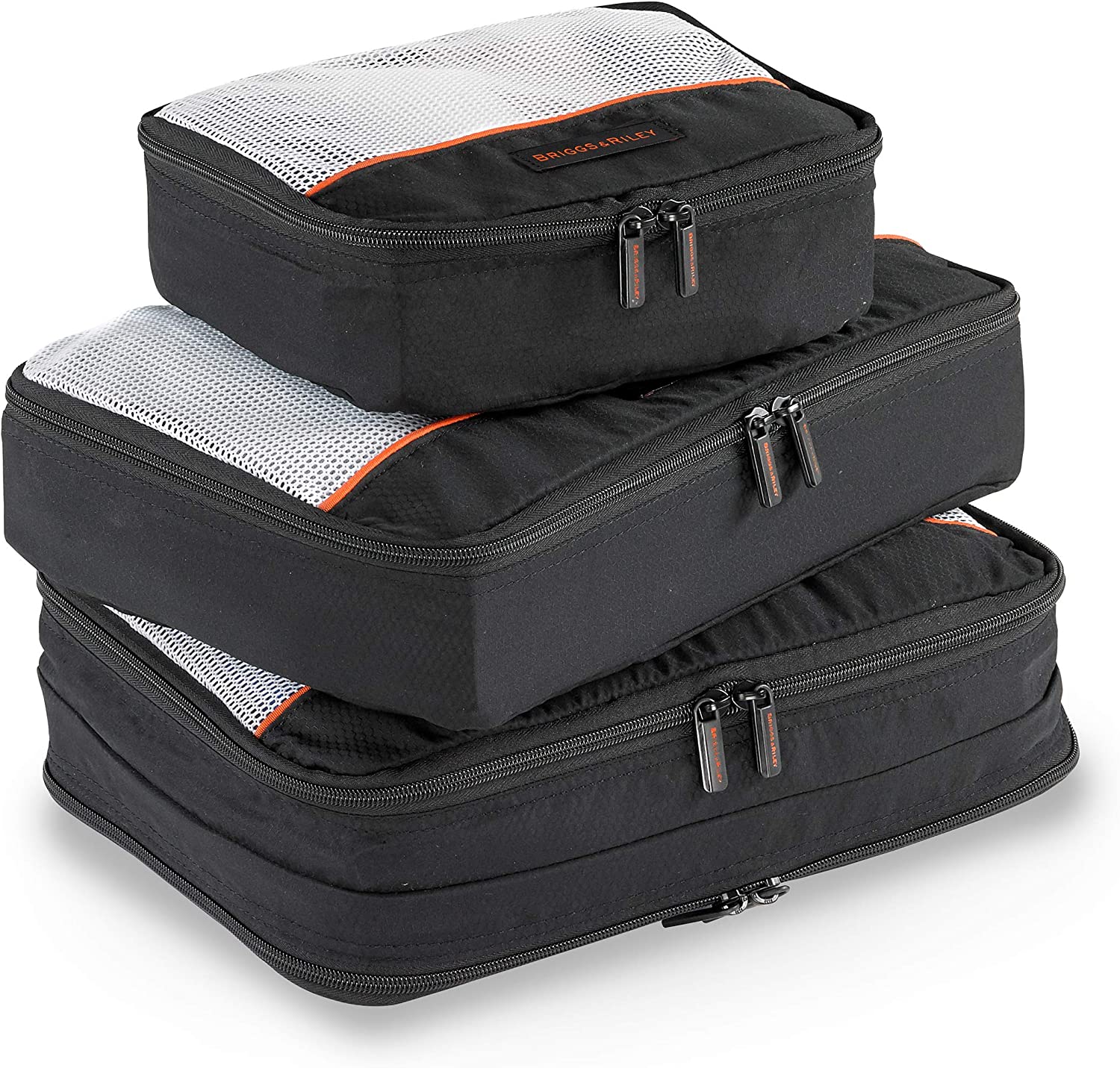 One feasible way of organizing your luggage is using packing cubes to fold your clothes and other travel essentials inside. Packing cubes are the new hack for compartmentalizing your luggage and go a long way into maximizing your luggage space. They are an essential travel companion for you as a traveller and give you the luxury to carry everything you need for your trip. Therefore, they're worth it in every possible way.
Packing cubes come in sets that can be slightly pricey but worth it. And yes, the tendency to maximize your suitcase space is entirely priceless. It acquits you of the burden of having to figure out what you should carry or leave behind. Investing in packing cubes is worth the bang of your dime and saves you the traveling headache.
In this guide, we'll provide you with every intricate detail about packing cubes and the price of ideal sets from our best picks. We'll also provide an additional guide on using them and properly folding your clothes so that they don't wrinkle when you finally unpack them. How about that?
What are packing cubes?
Technically, most travel backpacks and suitcases have large compartments to fill up with your luggage. Most people would head straight into rolling and folding clothes in these large compartments – which is just fine. But, let's face it. It doesn't convey the freedom to pack everything you need because you end up with lots of unused space. That's when packing cubes come in handy.
Packing cubes are small bags that come in sets that fit your luggage like a jigsaw. They make maximum use of your suitcase or backpack space, and this helps you cure traveling headaches. If anything, using packing cubes should be your ultimate consideration as you make travel arrangements. Believe it or not, they will help you big time in the long run.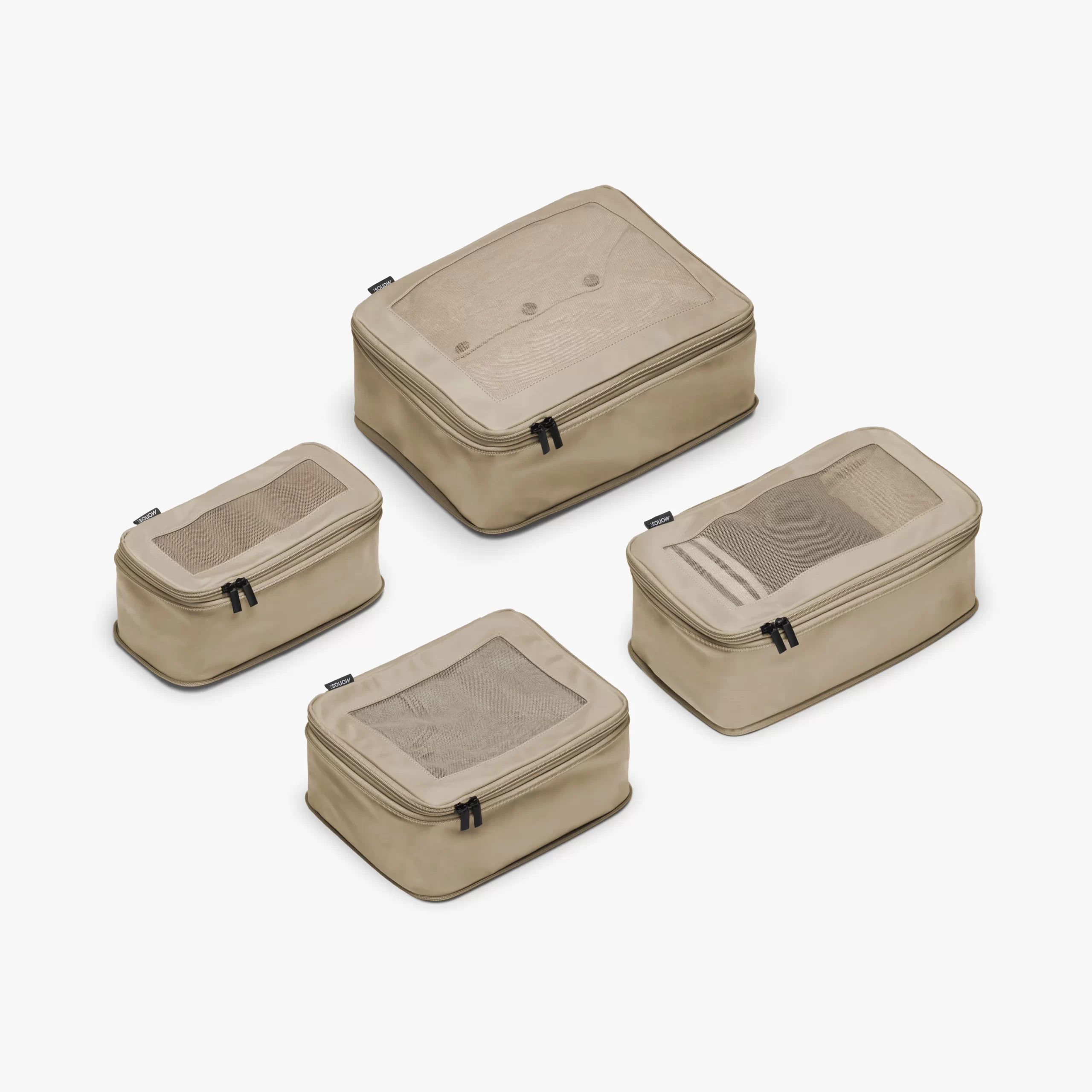 Features of ideal packing cubes
Zipper closure
Generally, all packing cubes have a zipper to secure your clothes and other items. This feature helps hold things in place so that you don't go all cringe with contents looking disorganized when unpacking. They're a fundamental feature, and your packing cubes should have and should be strong and sturdy. For durability, go for packing cubes with double zipper pulls to make closing and opening fast and simple. Single zipper pulls stain your zippers and render your packing cubes useless when they spoil.
Mesh top panels
Packing cubes with no mesh top panels are just fine, but for easy identification of the contents inside, you might want to get one with this feature. It'll help you easily point out what you need from the cubes and prevent you from reshuffling your luggage – which will disorient everything. Although some sets come with different colored packing cubes for easy identification, mesh top packing cubes beats it all.
Webbing handle
You might want to carry your packing cube individually when traveling. Therefore, it's good to find a packing cube with a handle to help you with that. Most manufacturers include webbing handles when making packing cubes, and it shouldn't be any cause of your worries. However, ensure that the handles don't get in the way of your packing because if they're too strappy, they'll be a problem.
Color
If you don't mind having a monochromatic set of packing cubes, then that's fine. Nevertheless, varied packing cube colors are an ideal way to help you identify those carrying different content. But as we've stated earlier, mesh top panels already help you easily identify your packing cube panels, and color shouldn't be a problem. But, it wouldn't bite having multi-chromatic packing cubes.
Make packing cubes worth it – TBE tips and techniques!
Using packing cubes is as simple as A, B and C and isn't much effort. However, things like the wrinkling of fabric and the inability to maximize space can be your biggest nightmare. 
Therefore, you must understand the techniques and tricks of getting the most out of your packing cubes. Lucky for you, we've provided a few tips to help you with everything concerning the use of your packing cubes.
Use tissues or plastic bags to fold clothes
Wrinkling of fabric is a traveller's worst nightmare. The goal is to squeeze in every piece of cloth neatly in the packing cube, and they stay unwrinkled after unpacking. One feasible hack you can implement is wrapping and rolling your clothes in tissue or plastic bags. Joni and Kitt from Practically Perfect suggest that you use these materials to eradicate the chances of your clothes getting wrinkled along the way as you shuffle and shuffle your bags in transit.
Maximize on space by rolling rather than folding
Joni and Kitt also suggest that you roll your clothes and arrange them neatly in your packing cube rather than folding them. However, they aren't opposed to folding and recommend it if rolling isn't your taste, but it helps to maximize your space.
Protect your fragile items
Separate any fragile electronics, including cameras, laptops and iPads using a separate packing cube. Also, set them in the middle of the luggage to not get bumped at by other objects in transit. Ideally, you can use Velcro bags to pack such equipment. Although these offer a different packing perspective compared to packing cubes, they come in handy in helping you organize your luggage safely.
Keep your traveling essentials in a convenient pocket
While traveling, the worst thing you can do is shuffling through your neatly arranged packing cubes to get to an essential. If you're sure you will use your water bottles or credit cards more often during your travel, would you mind putting them in a more convenient pocket? It will prove useful as you'll easily reach them without disorganizing your luggage.
Looking for packing cube recommendations? Look no further!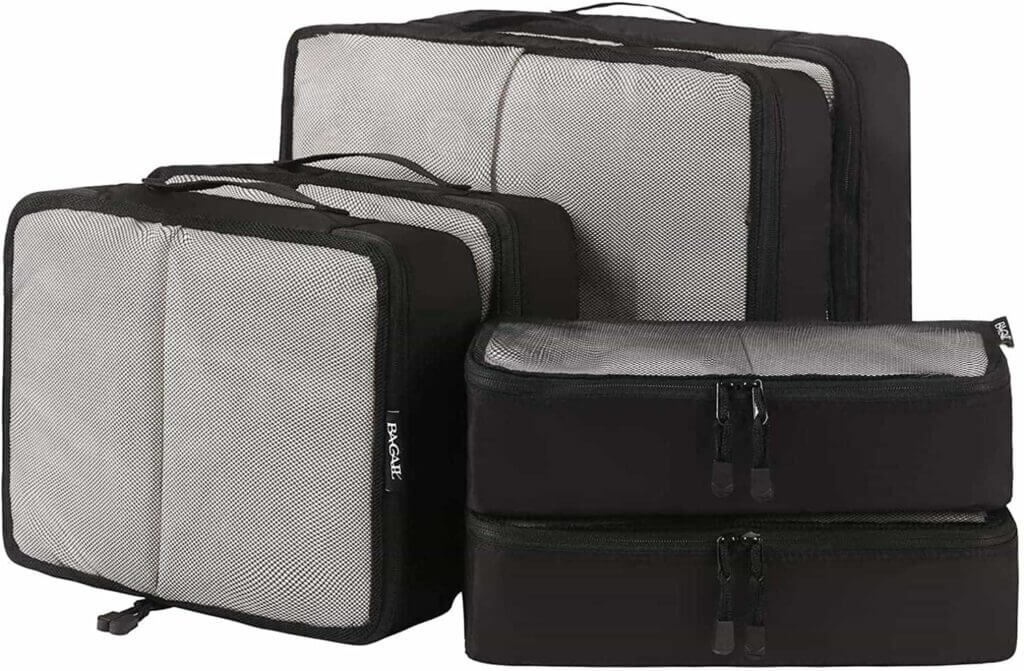 This packing cube set conveys six bags of different sizes. They're monochromatic but have mesh top panels to help you easily identify your items. They're also durable and are made with high-quality nylon fabric with finished interior seams. They also provide double zipper pulls on a strong and sturdy zipper so that you don't have to worry about them getting damaged any time soon.
Apart from having mesh top panels, these packing cubes offer an additional luggage identification advantage. They have uniquely stamped logos on every cube to identify what's inside and save you time. Besides, they have a waterproof fabric lining their exteriors to prevent your clothes and items from getting wet. They're an ideal traveller's companion, too, as they provide double zippers and an ergonomic design to fit in your suitcase or backpack perfectly.
These packing cubes offer a lighter alternative to staying organized in your travel. The set contains five packing tubes, each having a varied size. The main reason why we picked this set is that its manufacturer uses patent-pending technology. This technology helps the cube hold its shape when packing to give you a better sense of space. They also contain premium self-repairing coil zippers having corded double pulls for a longer period of use.
Dimj packing cubes come in a set of nine pieces of travel cubes. They provide extra space through their four extra drawstring bags for putting all your travel essentials and prevent you from shuffling through your luggage when you need them. The five packing cubes the set offers are ideal to suit your traveling needs.
Can packing cubes help you save money on baggage fees?
Yes, packing cubes can actually help you save money on baggage fees, especially if you're a frequent traveler or someone who likes to pack a lot. Airlines often charge extra fees for checked luggage that exceeds a certain weight or size limit. By using packing cubes to organize your clothes and other travel essentials, you can reduce the overall weight and size of your luggage, making it easier to meet the airline's requirements.
For example, instead of packing bulky items like shoes and toiletries in your main suitcase, you can use smaller packing cubes to store them separately. This will not only help you stay organized but also free up space in your main suitcase for other items. You can also use compression packing cubes that compress your clothes to maximize space, which is an effective way to reduce the size of your luggage.
Moreover, packing cubes can help you avoid the need for additional baggage altogether, particularly if you're traveling for a short period. By using packing cubes to neatly organize your items, you can fit everything you need into a single carry-on bag, which is often free of charge on most airlines. This can save you a considerable amount of money on baggage fees, especially if you're a frequent traveler.
In conclusion, packing cubes are an excellent investment for anyone looking to save money on baggage fees while keeping their luggage organized and compact. By using packing cubes, you can avoid overpacking and keep your luggage within the airline's weight and size limits, thus avoiding the extra fees.
Are there any downsides or limitations to using packing cubes?
While packing cubes are generally considered to be a great way to organize your luggage and maximize space, there are a few downsides and limitations that are worth considering.
One limitation of packing cubes is that they can add weight and bulk to your luggage, which can be a concern if you're trying to travel as light as possible. Depending on the material and size of the packing cubes, they can weigh anywhere from a few ounces to a few pounds, which can add up if you're using multiple cubes.
Another potential downside is that packing cubes can limit your flexibility when it comes to packing. For example, if you're trying to pack a bulky item like a coat or a pair of boots, it may not fit into your packing cube, which can be frustrating. Additionally, if you're a last-minute packer, you may find that packing cubes take more time to pack and unpack than simply stuffing your clothes into your luggage.
Finally, while packing cubes can help you stay organized and minimize wrinkles, they may not be suitable for all types of travel. For example, if you're backpacking or camping, you may prefer to use a duffel bag or a backpack instead of a suitcase, which may not be compatible with packing cubes. Similarly, if you're traveling for business or attending a formal event, you may need to pack your clothes differently to ensure they stay wrinkle-free.
In conclusion, while packing cubes can be a useful tool for organizing your luggage and maximizing space, they do have some limitations that are worth considering. Ultimately, the decision to use packing cubes depends on your specific travel needs and preferences.
Are packing cubes worth it?
If traveling conveniently, swiftly, and problem-free is your taste, packing tubes are worth it. Imagine this, having to travel with a bulging suitcase that's well disorganized inside. Or opening your suitcase in transit and what everyone sees is a bunch of clothes piled for the sake of it? Presumably, it could be your worst traveling nightmare.
Packing cubes keep you organized and neat with your luggage. Therefore, investing in a set is worth the bang of your money. Packing cubes are becoming more significant for travellers and are growing in popularity by the day. Just ensure that you get the best set – some of which we've mentioned in this guide – and you'll be fine as you travel.
Conclusion
Packing cubes offer the luxury of organizing your luggage for easy, enjoyable and convenient travel. Are packing cubes worth it? Yes, they are and will elevate your traveling experience more than you could imagine. Therefore, no more traveling hassles and headaches for you!